Issy's Infatuation by Shelley Munro: Isabelle "Issy" Deans is a talented rugby player with hopes of moving up to the professional level at the end of the current season. She practices hard and plays hard to ensure that she succeeds. Being distracted in anyway is not an option, so when her former crush from high school, rugby player turned coach Tyler Jameson steps in to coach her team for the final month of the season, she knows she is in trouble.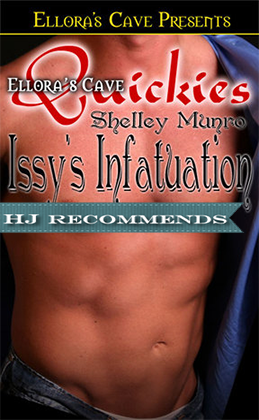 Wow, talk about a surprise! Tyler never imagined that gawky, teenage Issy would grow up into such a beautiful, talented woman. Since Tyler was a best friend of her brother, he always thought of Issy in a sisterly way. Now her very presence causes lustful thoughts and so he doesn't hesitate to ask her out. After a wonderful evening and mind-blowing sex, they agree to give themselves to each other for as long as time permits.
Tyler is a good coach and Issy along with the rest of the team are moving toward their goals of winning the season and preparing for the professional team recruiters. Unfortunately, not everything goes according to plan.
Issy and Tyler's relationship is powerful and scorching. The many years of yearning and longing is causing Izzy's heart to explode with love. Tyler knows that Issy is the one for him the moment their eyes met at their first rugby practice. Intimacy is given a new definition with every sexual encounter and moment spent together.
I enjoyed this novella. It is a fast-paced erotic romance with truly likeable characters. I found the characters well-developed and engaging, within the confines of a short-story. Issy's brother Adam is an interesting secondary character, I believe a story about him would be hot; hint, hint.
If you are looking for a quick, erotic read with an refreshing plot, give this novella a try!
Book Info:

Published March 30th 2007 by Ellora's Cave (first published March 2007)
Issy's Infatuation Shelley Munro Issy Deans has a secret-she's always lusted after Tyler Jameson. Call it an unfortunate infatuation with her brothers' best friend. A surprise meeting at rugby training brings a provocative proposition. One month of hot sex then they'll both walk away. Issy isn't a fool. She says yes. Let the month begin. Each touch sizzles. It's pure magic between them. Passionate. Intense and even better than she imagined. Issy is riding high on Tyler and her hot prospects as a representative rugby player until reality steps in with a forward pass.