In Don't Touch My Petunia (The Holloway Girls #2) by Tara Sheets, Juliette Holloway works hard to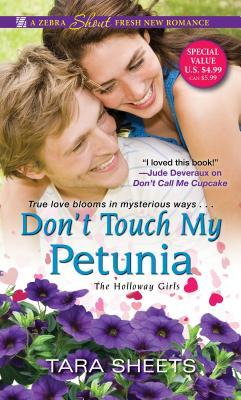 save enough money in hopes of buying the shop where she works from her boss when he finally retires. However, it seems Juliette isn't going to have things as easy as she thought when she learns that her old crush, Logan O'Connor — who just happens to be her boss's nephew — will be doing the renovations for the store, especially after she begged him to stay years ago. Will Logan be able to convince Juliette to take a chance on him or is Juliette's cynicism for love and happy ever after too high for her to give Logan a shot?
Juliette held up her hand. "I already know what you guys are going to say and the answer is, I'm not interested."
"Why not?" Gertie demanded. "He's gorgeous, and seems really nice. And he's got great taste in movies, so you know he's smart. Besides, you've been single now for how many years?"
Juliette frowned. "I date guys all the time."
"Yeah, date and then undate, as soon as they start asking you personal questions. Like what's your middle name."
The first book of this series, which was Ms. Sheets debut novel was absolutely marvellous, and this story was another remarkable and enchanting read. Really, the way this story started introduces the main characters superbly and had me hooked because of this couple's history and the fact that it's palpable Juliette still feels something for him, no matter how hard she tries to keep her feelings hidden. Yet, the further I got into this book, the more I loved the close friendships the heroine has with the secondary characters, especially when they bring up her past relationships. Talk about a laugh and a half.
"Well, I still think you should consider Logan O'Connor," Gertie said. "He can't be any worse than that biker guy. Remember him? Always angry and broke."
Juliette shrugged. "He had a lot of financial commitments."
"Yeah, Gertie. Don't be so judgmental," Molly said sweetly. "Beer and sawed-off shotguns don't just grow on trees, you know."
Juliette rolled her eyes. "I hate you guys. You know that, right?"
"We know," Gertie sang back. "We love you, too."
As for the dialogue, it was a wonderful combination of intense moments due to the main characters back stories and playful banter that had me loving the growing relationship between this couple, especially with the way this story started that had me understanding why Ms. Sheets titled this book 'Don't Touch My Petunia.' Furthermore, both the main characters are highly entertaining due to their back stories and the journey they take to happy ever after, as Juliette does her best not to fall for Logan by going for a different man; a man that makes idiotic choices that lead to disastrous consequences or amusing ones depending on how a reader would see the situation.
With the main characters, Juliette is resilient; courageous; a little wild, which is proven by the dates she goes on in this story and what she does for Logan using her magic; and I liked how much of a challenge she provides Logan when it comes to whether she'll give him a chance or not. Then again, it's understandable why she's hesitant to give the hero a chance after the losses she's suffered that make her worried she'll lose someone else she cares about if she gives them a chance. Will Logan win her over? While the hero, he's confident; driven when it comes to the work he's doing at the flower shop; persistent when it comes to winning Juliette over, no matter how exasperating she is and what she does to resist his attention; and I liked how determined he was to settle back at Pine Cove Island, even though he was so quick to get away from the place when he turned eighteen. Will Pine Cove Island feel like home or will he leave again?
"Actually, this was Emma's idea. I was going to wait, but she insisted I show you now. Bride's orders. I couldn't say no."
"Have patience." Logan opened the passenger door for her.
She shot him a look as she slid inside. "Patience has never been one of my virtues."
"Believe me, I know."
Overall, Ms. Sheets has delivered an incredible read in this book where the chemistry between this couple was off-the-charts; the romance was delightful and had me loving these two together; and the ending had me worried for the heroine because of something she does that could lead to danger for her health, but had me loving how these two get their happy ever after because Juliette needs Logan just as much as he needs her to fully heal from their pasts and show that love is worth fighting for, no matter how hard the heroine tries to resist. However, it was the epilogue that wrapped this story up perfectly, as Logan loves Juliette so much and I loved the surprise he had for her. I would recommend Don't Touch My Petunia by Tara Sheets, if you enjoy second chance romances, the enemy to lovers trope, the friends to lovers trope or books by authors Donna Kauffman, Jill Shalvis, Susan Mallery and Debbie Mason.
Book Info:

Publication: September 25th, 2018 | Zebra Shout | The Holloway Girls #2
Pine Cove Island is the kind of enchanting place where anything is possible . . .
The Holloway women each have a special gift, passed down through generations, each one a little different. Juliette possesses a magical green thumb, which makes her job managing the local florist shop a dream. She may be a bit wild, but she knows what she wants: to save enough money to buy the shop from her boss. Then in marches Logan O'Connor, more annoyingly handsome than ever, turning all her plans upside down.
Logan hasn't been back on Pine Cove Island since he was eighteen and broke Juliette's teenage heart. Now it turns out he's her boss's nephew–and will be spending his days remodeling the shop and barking orders. At her.
For the sake of the business, Juliette will have to ignore their simmering attraction and work with Logan. But that doesn't mean she has to make things easy for him. Because no one knows better than she that one tiny, perfectly planted bit of garden magic could uproot Logan's own plans and keep him out of her way. And nothing would make her happier. At least that's what she thinks . . .