In Until We're More (Fighting for her #2) by Cindi Madsen, Chelsea has wanted her best friend Liam for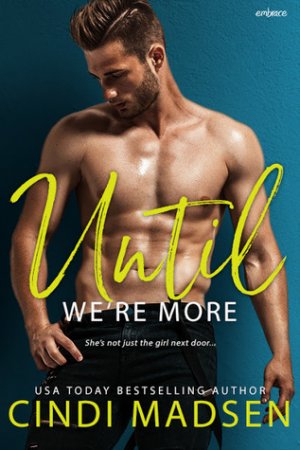 quite some time now. Too bad he only wants to be friends. Yet, when he offers her his spare room while she's in town on business, she decides that she's done keeping things platonic between them. However, there's just one problem — Liam thinks she's too much of a distraction on his way to winning an MMA championship to ever give happy ever after between them a shot. Will Chelsea be able to convince him otherwise or will she walk away before he breaks her heart?
Finn came over to act as "attacker", and he did a double take when he saw Chelsea. "Holy sh**, am I seeing things, or is my favorite ginger in the gym?"
"Oh, please make my day and say I get to practice defense moves on you," Chelsea said with a megawatt smile, and a scowl automatically twisted my features. "I've always wanted an excuse to maim you."
Finn laughed and hugged her, and I exhaled through my nostrils and reminded myself they were friends, too. But if he didn't cut the hug off now, I might be the one maiming him. His eyes went wide when they finally swung my way, so my inflict-damage thoughts were obviously clear.
What an entertaining, fast-paced, compelling read Ms. Madsen has delivered in this second book of her Fighting for her series where the main characters have fantastic back stories; the dialogue was a wonderful combination of intense moments and playful banter that had me loving this couple's growing relationship and their tight friendship; and the secondary characters fascinated me as much as the main ones because they aren't afraid to offer their advice when it comes to this couple's relationship because Liam and Chelsea are so good together.
The way this story started drew me in immediately and had me liking the heroine right away, as being back in town isn't easy, especially with how she feels about Liam and denying her feelings isn't something she can do for much longer. However, it was from the moment the hero and heroine come face-to-face for the first time where things get interesting, as there's no denying these two are the best of friends and I loved how Chelsea wasn't afraid to show Liam how much she missed him, even if she does embarrass herself a little. Not that her appraisal of his appearance isn't cute.
"Chels, you said yourself that you want to climb up the ladder…"
A fiery gleam entered her eye. "If you call me a monkey again and offer me a banana, I'm going to shove it up your—"
Hey, hey." I held my hands up in a soothing I-surrender gesture. "Save that feistiness for your coworkers."
With the main characters, both were relatable, likeable and entertained me from start to finish with their back stories, their growing relationship and the obstacles they face on their journey to happy ever after including Liam believing having anything more with Chelsea than friendship is a distraction to him winning what he wants most. Will Chelsea be able to prove him wrong? Moreover, the heroine is resilient, courageous and I liked how determined she was to prove herself when it comes to her job. I also liked how she wasn't afraid to fight for a shot with the hero, even though she knows she could end up getting hurt. While the hero, he's confident, fierce and I liked how determined he was to win the title he wants to win. Will Liam achieve his goal? I also liked how the hero gave into his feelings for the heroine, even though he knows he could end up wrecking their friendship if he isn't careful. Yet, what I liked most of all about the hero was the close relationships he has with his family and that they would do anything for each other including making sure that Liam doesn't make the biggest mistake of his life by letting Chelsea get away.
Overall, Ms. Madsen has delivered a really good read in this book where the chemistry between this couple was intense; the romance was hot, nicely-detailed and proves that best friends make the best of lovers; and the ending had me loving the hero's determination to make things right with the heroine because she means so much to him and there's no way he can let her go. However, it was the epilogue that wrapped this story up wonderfully, as Chelsea had me smiling with her attitude to watching the hero in the cage and her cheering him on. Will Liam win? I would recommend Until We're More by Cindi Madsen, if you enjoy the friends to lovers trope or books by authors Avery Flynn, Sarah Robinson, Elle Kennedy and Amy Daws.

Book Info:

Publication: August 27th, 2018 | Entangled Publishing | Fighting for Her #2
Chelsea is smart, funny, gorgeous, and the best friend I've ever had. Ever since she left, I've been a wreck. I've been focused on keeping my family's MMA gym afloat while I train and coach fighters, anything to not miss her more. But now she's finally back, along with her grumpy, possessive cat, and things are weird between us.
By weird, I mean I can't stop thinking about her in that way. She's in the room next door, and it takes all my control not to storm in there, sweep her up, and bring her back to my bed. Even stranger, I'm pretty sure she'd be into it.
And this time, I'm not going to stop fighting until we're more.