In Echo Lake (Swift River Valley #4) by Carla Neggers, Heather Sloan can't believe it when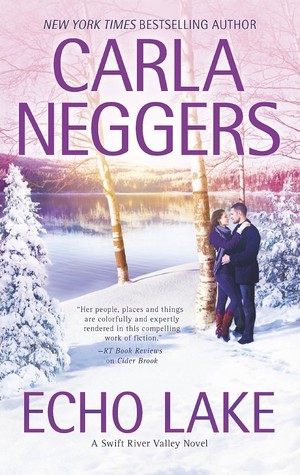 former bad-boy-turned-Diplomatic-Security-Service-agent Brody Hancock shows back up in their hometown of Knights Bridge, Massachusetts. Rumors aplenty had painted him as a troublemaker right up until the day he left for college. With Heather now renovating his mentor Victor Scarlatti's home, avoiding Brody, and the temptation to fall into his arms, will be extremely difficult. But while they both focus on helping Vic ease into retirement in their own ways, Heather hopes their mutual attraction isn't just a diversion for Brody while he's on leave from his dangerous job.
…He kissed her on the lips, his mouth lingering on hers just long enough that she knew this wasn't an entirely impulsive act. Even so, she barely had a chance to react before he stood straight.
He smiled at her. "Might as well get that out of the way, don't you think?"
"Out of the way? Damn, that's romantic, Brody. Thanks."
Being in between assignments always has Brody restless and unsettled. But this time, his good friend and mentor Vic needs his assistance back in Knights Bridge. Brody hasn't been back to his hometown since he graduated and really isn't looking forward to it now. Getting to meet the all grown up version of Heather Sloan, however, was well worth the trip. He's normally a casual guy when it comes to the ladies. He knows in his line of work relationships are tough. But Heather makes Brody rethink his outlook, making him wonder if he could be the type of guy to settle down after all.
He slipped his arms around her. "What am I going to do about you?" Before she could get a decent breath, never mind respond, he lowered his mouth to hers. "I can't stop thinking about you. I don't want to stop."
"Is that why you're leaving?"
New England charm and romance abound in Echo Lake, the fourth full-length novel in Carla Neggers' heartfelt Swift River Valley series. With a potential mystery to solve and sparks of attraction flying, settle in for a while. It's going to be a bumpy ride.
Echo Lake, to me, was a novel about second chances, family, and new beginnings. Set in the quaint town of Knights Bridge, Massachusetts, Ms. Neggers did a fantastic job painting a picture of how a small town in New England functions. Which, especially in the harsh winter months, can get quite interesting. It was entertaining to see how the large and rather traditional Sloan family handled Brody's return to town, as well as his interest in Heather. Her five meddling brothers were comical with how they conspired and tracked what was happening. But I loved that when all was said and done, Heather had their full support and love.
Having Vic Scarlatti's retirement as a sub-plot definitely added another great aspect to this story. Just as he was starting a new phase in his life, Heather and Brody were reintroduced and the sparks flew, pushing them into a new path also. I liked having this shown from three POVs: Heather, Brody and Vic. The story just seemed more vibrant and complete with all of their thoughts being included. I really came to like all of them and felt the differences in their personalities worked well together. The one thing they shared, which was a lot of fun, was a dry, witty sense of humor. Actually, they also shared a mutual affection for Rohan the Golden Retriever puppy who had them all wrapped right around his furry little paws. What a cute little rascal he was!
If you're looking for a romance with an authentic small town feel and a heartwarming happily-for-now ending, check out Echo Lake. Whether you're new to the series or are already a fan, I think you'll enjoy this one.
Book Info:

Publication: January 27th 2015 by Mira | (Swift River Valley #4)
In snowy Swift River Valley, unexpected romance is just around the corner…
Heather Sloan has landed her dream job—the renovation of Vic Scarlatti's stately 1912 country home overlooking the icy waters of Echo Lake in Knights Bridge, Massachusetts. It's the perfect project for the family business, but for once, Heather is in charge.
Diplomatic Security Service agent Brody Hancock left Knights Bridge at eighteen, a few steps ahead of arrest and the wrath of Heather's older brothers. Though Brody had never planned to return, Vic, a retired diplomat and friend, needs his help.
Staying at Vic's guest house makes it impossible to avoid running into a Sloan at every turn—especially Heather. Seeing her again has affected Brody more than he wants to admit. But Heather is wary of Brody's sudden interest in her, and she suspects there's more to his homecoming than he's letting on…
Set against the scenic backdrop of a New England winter, Echo Lake is a captivating tale of family, friends and the possibility of new love.