In Ever After (Nantucket Brides Trilogy #3) by Jude Deveraux, Physical therapist Hyacinth "Hallie" Hartley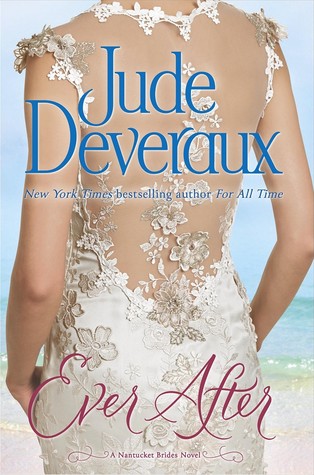 has spent most of her life taking care of her stepsister Shelly and conceding to her every demand. But after Shelly tries to scam her over, Hallie finds herself in Nantucket, in a historical house that she just inherited and has a new in-house client needing physical rehabilitation. One look at her athletically handsome client Jamie Taggert has Hallie head-over-heels. Try as she may to remain professional, Jamie's charm and his need for healing calls to her personally. What will happen to them when he's ready to leave the island?
"I apologize for my behavior," he said. "I'm very sorry."

"And I for mine," she answered. "It's been a tough day and I took my anger out on you. Why don't you take your clothes off and let's start over?"

Jamie lifted his eyebrows high.
Jamie Taggert is still healing physically and emotionally from traumatic events in his recent past. Coming to Nantucket might not have seemed like a good idea, but as soon as he meets Hallie, he knows it's the only place for him. He badly wants to to open up to her but Jamie fears she will be put off by his issues. With his family showing up and complicating things as well as the ghosts of two sisters who reside in the house putting their two cents in, he's going to do everything he can to make Hallie understand how much she means to him.
'As he watched Hallie, he realized that her wounds weren't visible, as his were. She didn't have to wear long sleeves to cover the scars, but right now he was thinking that it was possible that she was as deeply scarred as he was.'
Ever After was an epic conclusion to the Nantucket Brides Trilogy. I was absolutely 100% charmed by the story and the characters. ALL of them. Not just our protagonists, Jamie and Hallie, but also by the ongoing family rivalry between the Montgomerys and Taggerts.
I am so very sorry to see this trilogy end. There was something so perfect about the romances being set on historical Nantucket, with that added dash of a ghost story thrown in. I loved that even though each book was interwoven with the others in the trilogy, they can be read separately and still make sense. Obviously it would have more of an impact if you read them all, but each one on their own would still be very entertaining.
I cannot commend author Jude Deveraux enough on how she balanced humor and heaviness in this novel. Hallie and Jamie had such a wonderful, fun rapport between them, with all of their teasing and flirting. It made the conversations a delight to read. Those lighthearted moments helped keep the tone from getting too dark when we learned more about Jamie's PTSD, as well as Hallie's extremely tough childhood.
These two characters were both so deserving of love and acceptance that I just latched on to them from the very beginning. Everything from their instant attraction to their lack of confidence in certain aspects of their lives seemed genuine and made me cheer for them even more. The addition of the Montgomerys and Taggerts on the island led to some fun scenes as well as those with the ghosts of the Bell Sisters meddling in Hallie and Jamie's romance. Be on the lookout for a scene where Jamie has to apologize to Hallie and he gets some help from his cousins. Oh. My. Goodness. So much fun!
If you enjoy romances that aren't afraid to dig deep into intense emotions while still carrying a great sense of humor, Ever After is for you. I hope you are as swept away with Jamie and Hallie's love story as I was!
Book Info:

Published June 23rd 2015 | by Ballantine Books | Nantucket Brides Trilogy #3
New York Times bestselling author Jude Deveraux's eagerly awaited third novel in her blockbuster Nantucket Brides trilogy continues the spellbinding saga of the Montgomery-Taggerts, set on an island steeped in beauty and unforgettable romance.
Life is anything but perfect for Hallie Hartley, a young physical therapist who has given up nearly everything—even her love life—for her beautiful blonde stepsister, Shelly. Though Shelly's acting career has never taken off, she has certainly perfected the crocodile tears to get what she wants—which all too often means Hallie's boyfriends. When Hallie arrives home early from work one fateful day, she makes two startling discoveries that will turn her life upside down: Not only has a mysterious relative left Hallie a house on Nantucket, but Shelly has been trying to steal it. Desperate to put her troubles behind her, Hallie impulsively flies to Nantucket.
New trouble, however, has already settled into Hallie's guest room in the form of her newest client. Hallie is told that wealthy, young James Taggert has injured his leg in a skiing accident. Assuming that the devastatingly handsome man has led a charmed life, Hallie is surprised by Jamie at every turn throughout his recovery. His attentions draw her out of her shell—but he has a dark secret, and is tormented by nightmares that only her presence can keep at bay. She suspects there's more to his injury than he's letting on.
On this gorgeous island rich in history, magic is everywhere, even in Hallie's own backyard. As Jamie's relatives arrive for a wedding gala, something wonderfully unusual is in the air. There's an aura of romance—enhanced by a pair of matchmaking ghosts and a colorful island legend. In their own little corner of the world, Jamie and Hallie unravel the timeless secrets of their own hearts, and a very special story of True Love destined to last forever after.