In Back to Texas by Amanda Renee, we return to Ramblewood to see how Bridgett is handling all the secrets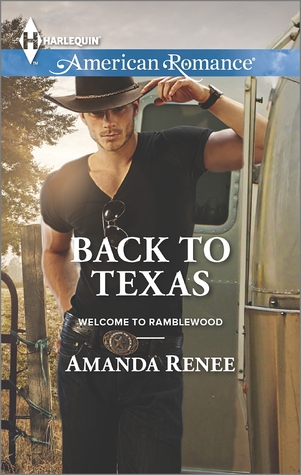 revealed in A Texan for Hire, and to meet a stranger who has arrived to steal her heart.
Bridgett Jameson hates bring the center of gossip, and now after discovering she has a twin and who her father is, she has become the talk of the town. Which only makes her want to leave town ASAP and not come back. To make things worst, her sister Abby has moved to town to be close to her new fiancé and newly found mother. Bridgett doesn't hate Abby, she liked her when she first met her, but now having her in town makes Bridgett feel uncomfortable for she doesn't know how to act. She hasn't been able to assimilate all the changes that just happened, the fact that her mother lied to her her entire life, and that her father ignored her until her sister came into town and everything was discovered.
Adam Steele can't blame his family for hating him. In search of fame he did what his manager told him and denied their existence and his entire life, making an entire different one from what he actually lived. Now after many years on the road and so many lies, he is tired, he wants to go back home and just be a regular guy. But after he tries to go home, his father denied him entry into his home in the middle of the night, and the only person who accepted him was his sister, but only because he has helped her when he needed her. Now he needs her help to get their parents forgiveness. But first he needs to make things right.
When Adam walked into the diner where Bridgett works, he finds her attractive and wants to get to know her better. The fact that she doesn't recognize him is a bonus, he wants to put his past behind him, and just maybe he may be able to start over in Ramblewood. At first Bridgett believes that he may be a journalist, but after his firm denial and hate of them she lets him off the hook. Then helps him get a job as a ranch hand, which takes him back to his roots and work with his hands. Something he hasn't done in a long time but has never felt as rewarding as it does now.
As Adam and Bridgett get closer, the more her begins to fall for her and wants a future. But in order for that to happen he needs to convince her that staying in town will not continue hurting her. So Adam decides to try to help Bridgett and her family make up. He knows they hurt her, yet he knows how much they need her forgiveness the same he needs his parents' forgiveness. Only once she fins out that he has a kept a secret from her too, he is not sure he'll be able to earn her forgiveness as well.
Adam and Bridgett are both filled with family problems. While each may be different, they are both surrounded by lies that broke their families' trust. For Adam, he let fame and glory be more important than principles and family. For Bridgett, it was her mother's lies and secrets that broke her trust and heart. She always loved her mother and trusted, and learning that she kept something so important from her her entire life, is not something she can get past easily. But the toughest thing Bridgett will have to get past, is the little lie that Adam has kept of what his previous life was and meant.
If you want a heart-wrenching, and sweet romance that shows the meaning of forgiveness and family, don't miss Back to Texas by Amanda Renee.
Book Info:

Published:May 5th 2015 | Harlequin American| Welcome to Ramblewood #5
TO TELL THE TRUTH…
Bridgett Jameson is the talk of Ramblewood…and not in a good way! With her newfound sister moving to town, her true father being exposed, and the knowledge that her mother has lied to her since birth, Bridgett wants to get the heck out of Dodge. But when a handsome, mysterious stranger arrives, she finds her determination wavering.
His family wants nothing to do with him, and Adam Steele can't say he blames them. He's denied their existence for years in his pursuit of fame and glory. Now he just wants to be a regular guy. Ramblewood may be the best place for a fresh start…especially if Bridgett sticks around. But will exposing his past—and the lies he's told—cost him a future with the woman he loves?