In Every Breath by Nicholas Sparks, ER trauma nurse Hope Anderson thought that spending a week at her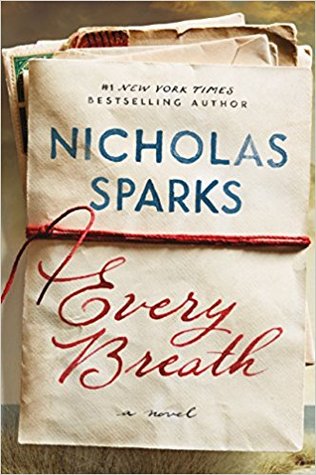 family's cottage on Sunset Beach in North Carolina would be a short respite from her troubles. Instead, she meets a man who will forever change her life. A man from a different continent who is facing down his past, looking for answers regarding his parents. This couldn't have happened at a more confusing time in her life, though, considering her father's new diagnosis of ALS. Plus, Hope is on the outs with her on-again/off-again boyfriend of six years, Josh. She initially hoped they would work things out. But meeting Tru Walls added a wrench to the works and has her wondering if her life could go in a totally different direction.
'Why does love always seem to require sacrifice?'
Tru has been pretty content with his life as a safari guide in Zimbabwe. Not that he hasn't had his fair amount of issues over the years. But the one thing he's always wanted is more information about his mother, who died when he was eleven, and the biological father he's never known. So when a letter and a plane ticket show up, promising answers to his questions, Tru makes his way to North Carolina. He finds the beach house he's staying in a bit ostentatious but the beach itself is peaceful and exactly what he needs. It's the woman he meets from next door, Hope, that truly captures his attention, though. And his heart. Tru is immediately drawn to her and knows this could be a forever kind of relationship. However, the fact that they are from different continents and have differing future plans may prove to be too much for them overcome.
"I can't force you to stay with me," he whispered. "As much as I want to, I can't. Nor will I try, even if it means that I'll never see you again. But I would like to ask something of you."
"Anything," she whispered.
He swallowed. "Will you try to remember me?"
A deeply moving, poignant novel of a couple falling in love at the wrong time in their lives, Every Breath was another reminder of just why Nicholas Sparks remains a popular voice in romance today.
'He suddenly felt that every step he'd taken in his life had been on a path leading to her, as if she were his ultimate destination.'
Note: No book bashing or author bashing, please & thank you.
I've been reading Nicholas Sparks' work since the late 90s. And while I enjoy some books better than others, he always has a very solid writing style that certainly works for the romance genre. Every Breath was a testament to how well he can spin a tale with emotional depth and complexity, while keeping the characters–and their situation–relatable for his readers. This story was actually a little bit different the way it was told, in that Sparks included himself, the author, as the narrator in the prologue and epilogue. Kind of a "story-with-a-story" as he explains in the Author's Note at the end. And I thought it worked wonderfully here. It added an interesting layer to Tru and Hope's story, which was fictional, although the Kindred Spirit mailbox we learned about is actually real. (Such a cool idea that I'd love to see myself some day!)
Hope and Tru's romance proved to be as bittersweet as it was lovely. And, yes, Sparks made me cry, as per usual. (lol) Their romance began in 1990 so we spent some time getting to know them at that point in their lives: when Hope was thirty-six and Tru was forty-two. Part I of the book focused on this time period and it was filled with every emotion imaginable. From the soaring highs of falling in love to the miserable depths as they realized they would have to part ways, those emotions were tangible and utterly real in their description. Part II of the book was set basically a quarter of a century later. I'm not going to give away exactly what happens, but I will say that there was a reunion of sorts which was inspiring as well as sad–and the point where I got teary-eyed.
But through it all, even with some of the decision Tru, and especially Hope, made, I never got to the point where I disliked either of them. I thought they were both good people who had dealt with some tough things in their lives but remained thoughtful and kind; not letting their circumstances make them become bitter. How could you not root for two such deserving people to find their HEA, right?
Every Breath was touching and achingly romantic, heartbreaking and ultimately filled with joy. It was everything I value in a Nicholas Sparks' novel and one of the reasons I come back time after time to his work.

Book Info:

Publication: Published October 16th 2018 | Grand Central Publishing |
In the romantic tradition of The Notebook and Nights in Rodanthe, #1 New York Times bestselling author Nicholas Sparks returns with a story about a chance encounter that becomes a touchstone for two vastly different individuals — transcending decades, continents, and the bittersweet workings of fate.
Hope Anderson is at a crossroads. At thirty-six, she's been dating her boyfriend, an orthopedic surgeon, for six years. With no wedding plans in sight, and her father recently diagnosed with ALS, she decides to use a week at her family's cottage in Sunset Beach, North Carolina, to ready the house for sale and mull over some difficult decisions about her future.
Tru Walls has never visited North Carolina but is summoned to Sunset Beach by a letter from a man claiming to be his father. A safari guide, born and raised in Zimbabwe, Tru hopes to unravel some of the mysteries surrounding his mother's early life and recapture memories lost with her death. When the two strangers cross paths, their connection is as electric as it is unfathomable . . . but in the immersive days that follow, their feelings for each other will give way to choices that pit family duty against personal happiness in devastating ways.
Illuminating life's heartbreaking regrets and enduring hope, Every Breath explores the many facets of love that lay claim to our deepest loyalties — and asks the question, How long can a dream survive?