Dear Santa: Nancy Naigle always writes the cutest stories. Her holiday themed stories are especially well done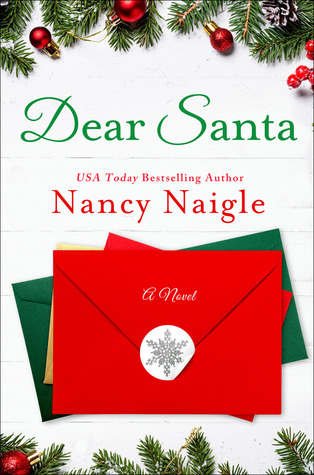 and are quickly becoming an annual tradition for me.
In her latest holiday release, the author writes a charming and emotional retelling of "You've Got Mail'.
The lighthouse-come-Christmas store 'The Heart of Christmas' has been in Angela's family for generations. But, the store has fallen on hard times, struggling to earn a profit. But, when the superstore, Christmas Galore, opens in Pleasant Sands, the writing is on the wall.
Totally bereft at the thought of losing the store, of letting her grandmother down, feeling like a failure, Angela butts heads with the national chain's manager/owner Geoff Paisley.
While Geoff struts around with an air of confidence, rationalizing his big business tactics, his mother suffers a health crisis and demands that he take over the 'Christmas Galore' annual 'Dear Santa' tradition. Geoff scoffs at such sentimentality, especially in the cutthroat business arena where the only thing that matters is the bottom line. But, he loves his mother and knows how much it means to her, so he agrees. The letters to Santa are cute, funny, unapologetic, as well as poignant. But, when he gets a letter from 'Anita C. Miracle' an adult writing at the request of her niece, he begins a long running correspondence with her.
Meanwhile, the clock is ticking for 'The Heart of Christmas' and Angela's heart is sadder and heavier with each passing day. But, ironically, it is Geoff, who extends an olive branch of friendship. The two come awkward friends, but deep down they know there a something magical happening between them.
Some may remember 'The Shop around the Corner' which was later updated as 'You've Got Mail', both movies are, for all intents and purposes, based around the old 'enemies to lovers' trope. But, what about a more modern setup with a stronger holiday atmosphere? At first, I will admit, I was a little skeptical. Holiday books are often a repeat of the same old themes over and over again, so I was hoping for a more original plot. Not only that, I worried it might be a little too ambitious. But, I absolutely fell in love with this story!!!
I loved the old traditions that Angela upheld, which were passed down through the generations in her family, the love and dedication she put into her shop, and admired her spunk. When cornered, she came out fighting!!
At first Geoff is not very likeable. He's not in tune to the Pleasant Sands history and really couldn't care less. He pokes at Angela's wounds, sometimes deliberately and sometimes inadvertently, but boy does he get under her skin.
Via Angela's letters to the guy formerly known as 'Santa', Geoff gets a clearer picture of who Angela is and why losing her shop hurts so deeply. He also learns about a surprise connection his own family has to the area, which gives him plenty of food for thought.
Nancy Naigle took the traditional storyline and ran with it, making it her very own. The basic set-up already had plenty of charm to begin with, but Naigle gave the story an emotional, heartwarming element, while sprinkling in enough of the holiday spirit to melt your heart!!

Book Info:

Publication: 10/16/18 | St. Martin's Griffin |
A holiday retelling of You've Got Mail that will make you fall in love with the Christmas Season!
Angela Carson wants nothing more than to be the third-generation to run her family's holiday store, Heart of Christmas, successfully. They've weathered over sixty tourist seasons, major hurricanes, and urban sprawl, in their old decommissioned lighthouse. But the national chain that set up shop in their small North Carolina town of Pleasant Sands may be more than Heart of Christmas can survive.
Geoff Paisley has been at his mother's side running the mega-chain Christmas Galore for the last ten years. When his mother falls ill, Geoff promises to answer the town's Dear Santa letters in her stead. Soon he realizes the woman he's been corresponding with on Dear Santa is Angela. How could the woman that grates his every last nerve in person have intrigued him so deeply through those letters?
Encouraged by her niece to ask Santa for help, Angela gives in and lets the words fly in a way that, if Santa were real, would no doubt land her on the naughty list. What's the harm when it's just a computer-generated response?
When Geoff reveals that he's her Dear Santa, will Angela be able to set aside their very public feud to embrace the magic of the holiday and possibly find true love?