In Fighting Love (Crestler's Key #1) by Melissa West, Sophie Marsh and Zac Littleton are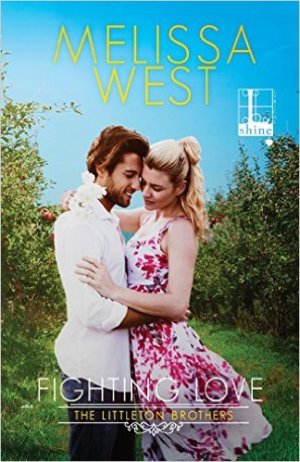 enemies when it comes to business. Where she's all about organic produce, Zac is the complete opposite and she isn't afraid to remind him of the health risks. Still, even though her produce is healthier, she's not making any head way with the people of Crestler's Key. Approaching Zac and striking a deal to become his fake girlfriend in exchange for his help in winning friends, Sophie never thought she'd begin to like him. But with her past making her wary of men, can Sophie overcome her fear or will her past ruin her second chance at love?
"I have my number, I'm guessing you have yours, and that's why you're invading my personal space?"
"Hey, you're the one who closed the distance, honey. Not me."
"Stop calling me honey."
"Stop smiling all the time like you're sweet."
"I am sweet."
"So is a bee until it stings you."
Having read Ms. West's Hamilton Stables series, I knew this new series of hers was a spin-off to it, as readers were introduced to Zac in the final book – Silent Hearts. And with him being such a good secondary character in that book, I couldn't wait to read more about him. From start to finish, this book was highly entertaining, fast-paced and a story I could not put down due to the playful dialogue between Zac and Sophie as well as the main characters and the secondary ones that had me smiling or laughing. Glenda, Sophie's best friend is all for a romance to blossom between her friend and Zac and isn't afraid to encourage the fake relationship. Then there's Zac's brothers and his sister, Kate (one of the heroines from the Hamilton Stables series) that tease him about him needing a date and a good time with a woman.
Both the main characters had me hooked due to their back stories and the fact that they both deserve a second chance at love, because their first go-round didn't end well. Their previous relationships have left them wary of the opposite sex with Sophie's husband being a controlling jerk and Zac being left for another man and becoming a single parent. Can they both overcome their wariness and give the other a chance? Will Sophie's past and how close it reminds Zac of what his ex did to him tear them apart?
So it is. And I'm your date for this because…"
"You look like you, and I hear Polly's weakness is younger men."
He choked on a laugh. "So you're whoring me out for profit. First lying, now this. You know Southern belles are supposed to be proper, right?"
Sophie winked at him. "Now, now, we both know true Southern women have no interest in being proper. They will flash you a smile while they plot your demise."
As for Sophie, she's a great heroine who has come a long way since leaving her ex. She's strong, brave, found that being independent suits her, and will do anything to continue to live her life the way she wants to live it, even if it means finally finding her voice and standing up to her ex when he decides to cause trouble for her. But what I liked most of all was how sassy and feisty the heroine is. She isn't afraid to speak her mind when it comes to making her business a success.
While Zac, he's confident, cocky and a really great dad. His daughter is the most important person in his life and he'd do anything to make her happy, even if it means convincing Sophie to fake date him. He's also kind and caring because of what he does for Sophie. No one seems to be too fond of her in Crestler's Key and being seen with Zac as well as being a little pushy by telling a white lie helps her get closer to what she wants to happen for her life.
"Now we don't want that. Let me make sure I understand this—you want me to lie to make your lie truthful?"
"Exactly!" She exhaled. "It's so nice to talk to someone who gets what I'm saying. So, you'll do it?"
Overall, Ms. West has penned another really good story where the strong chemistry between these two spilled over onto the pages in nicely-detailed and passionate intimate moments that illustrated how much these two deserve a second chance at love, if they can overcome the tough obstacles they face on their journey to happy ever after. The way this story ended had me concerned for one of the main characters. Would they be okay? How could Zac be so trusting of someone he hasn't seen in a long time? Yet, it was the epilogue that wrapped this story up nicely, because of the dilemma Sophie faces. What if she doesn't get the chance to win her man during a certain event happening in Crestler's Key? I would recommend Fighting for Love by Melissa West, if you enjoy second chance romances, the enemies to lovers trope or the fake relationship trope.
Book Info:

Publication: January 24th, 2017 | Lyrical Shine | Crestlers Key #1
The strapping, sun-kissed Littleton brothers of Crestler's Key are hometown boys in every way, farming land that's their family's legacy. But these sexy bachelors won't stay single for long…
Single dad Zac Littleton has always tried to make lemonade from life's lemons, and striking a bargain with Sophie Marsh is no different. A relative newcomer to town, she needs his help convincing the locals to try her Fresh Foods Organics produce—and Zac needs to satisfy his preteen daughter's pleas to get out and have fun. Fake-dating Sophie will kill two birds with one stone, at least for a while—unless he gets addicted to the sweet pleasure of his beautiful competitor's company…
Sophie can't stand Zac. Or maybe she simply can't stand Littleton Farms beating her in sales every week. It's true that pretending interest in Zac and his sculpted biceps and devilish smile is a lot easier than she expected, and much more tempting, too. But despite their all-natural attraction, Sophie's past has left her wary of any man—even one as charming as Zac. Besides, he's got trust issues of his own. If anything real can blossom between them, it's going to take a whole lot of patience, persistence…and passion.