In Fighting to Win (The Elite #1) by Nicole Flockton, Julia Ashland is looking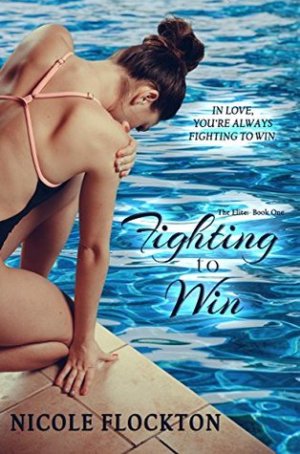 forward to competing in the Olympics, especially after the scandal that almost lost her the chance to compete at the prestigious sporting event. However, there's just one problem – facing the man she loves after what she did to destroy their relationship.
"Think about where we are, Mitch," she hissed at him. "This isn't the time nor the place."
"There will never be a right time. It's better to get a face-to-face meeting between us done now rather than in the midst of the Games."
Mitch Osborn knows all his focus must be on competing at the Olympics and winning more medals to add to his growing collection. But the moment he sees Julia again, he's determined to discover the reason why she dumped him instead of allowing him to support her after the scandal that almost ruined her career. Can he convince her to give their relationship another go?
I look forward to when this author releases a new book, and with this story being the first in a series encompassing athletes and the Olympics, I couldn't wait to read it. Right from the beginning, this book was engaging, fast-paced and I loved how much detail Ms. Flockton has put into the heroine's world of diving. Really, I was captivated by the heroine's love of her sport and her determination to come back from the scandal that could have ruined her career. As well as her fortitude to prove that her winning her last big event wasn't a fluke and that she didn't do what she was accused of.
"Did you come looking for me for a reason, or did you find me by chance?" he eventually asked when it looked like Julia wasn't going to say anything.
"I watched you leave the athletes' lounge and I followed you."
"If I didn't know you so well, I could say, 'Stalkerish much?'"
The dialogue was well-written and a nice mix of intense and playful. Mitch is well-liked by his team-mates and I enjoyed how much they supported each other at the various events with the hero and heroine both competing in events based in the pool. However, I felt sorry for Julia. She's been through so much and it's hard for her to face Mitch again, knowing how much she hurt him while believing she did the right thing to protect him and his career. Then there's the investigation she had to go through, which still didn't turn out how she hoped. Will she ever discover who accused her of such horrible allegations? Will Julia be able to win back Mitch's love? Will the couple win the events they're competing in?
I really liked both the main characters as well as the secondary ones. Mitch's best friend, Drake, absolutely adores Julia and wants the pair to be happy again. Both Mitch and Julia still love each other, and it's hard for either to stay away from the other. Despite the fact that Julia is doing her best to protect him while all he wants is for her to realize that he would support her through thick and thin no matter what happened to his career.
Julia is strong, brave and I liked how determined she was to prove herself. Winning her event was the ultimate goal and I loved how her team-mates and coach supported her. While Mitch, it wasn't easy for him to accept that he and Julia were over until he was publicly humiliated by the way the heroine splintered their relationship. However, I liked how determined he was to win her back and that he wouldn't let anything stand in the way. Not the scandal or Julia's indifference after their intimate reunion.
"This is what was always going to happen," he murmured against her skin. "You, me and a bed. It was as inevitable as the sun rising in the east."
"You're right."
Overall, Ms. Flockton has penned a delightful novel where emotions run high and the intense chemistry between the pair illustrates how much they are a couple meant to be, no matter what they have to overcome to be together. The way this story ended was perfect, as Julia was finally able to put the scandal behind her after the discovery of the person responsible for her troubles was revealed. Yet, in saying that, I wasn't surprised by who it was. Moreover, I liked how things turned out between Julia and Mitch because there was no way Julia was going to be able to let Mitch go again. I would recommend Fighting to Win by Nicole Flockton, if you enjoy second chance romances or sports romance.
Book Info:

Publication: August 10th, 2016 | Self-Published | The Elite #1
Julia Ashland walked away from Mitch Osborn when a scandal rocked her world following the diving world championships. Now she's face to face with him again at the biggest event of the year – the 2016 Olympic Games in Rio. Not only must she fight her attraction to him, she has to fight to prove she earned her position on the diving team.
Mitch Osborn is the darling of the swimming world. Competing at his third Olympics his focus is on increasing his personal gold medal tally not rekindling a relationship with Julia—the woman who publicly humiliated him with another member of the swim team.
Now thrown back together at the Olympics, will their competitive natures take hold or will they be fighting to win each other's hearts once more.