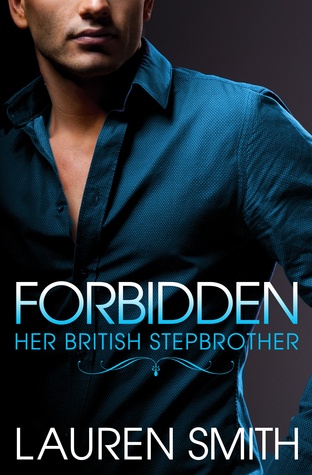 In Forbidden by Lauren Smith, a chance encounter leads to something unexpected.
Tristan and Kat run into each other at a pub and sparks fly. Kat is a first-year undergraduate student and Tristan is pursuing his Master's in business. Not to mention, he's also the future Earl of Pembroke. It's a life he doesn't want, but one that is laid out for him regardless.
Tristan is mouthwatering. He's smooth, dirty, and surprising.
"I don't let lovely women escape, not until I've tasted them properly."
Kat is not used to hot men paying her attention, heck, she's not used to any men paying her attention but Tristan sees something the others missed out on.
"Very few things attract my attention. But you did."
Forbidden is a quick read, so it doesn't take long for Kat and Tristan to act on their attraction to each other. It also leaves us with a cliffy. After Tristan and Kat have mind-blowing sex, they get the shock of their life, leaving readers anxious to read the next installment.
The stepbrother romance trope is not a favorite of mine but Forbidden was a good read. I need to read the next part in order to see how it all plays out.
If you enjoy forbidden romances and enjoy serials, this might be a good pick for you.
Book Info:

 January 12th, 2016 | Forever Yours | Her British Stepbrother #1
Kat has always been a good girl. She studies hard and never stays out too late. But when sitting in a pub on her birthday, she realizes she's a nineteen-year-old virgin who's never really lived. And she wants tonight to be the night that changes.
Then she sees him walk in. He's tall, dark, handsome, and straight out of her deepest fantasies. His voice makes her knees feel weak, and when he smiles, she imagines him doing wicked things to her in bed. From the look in his eyes, she knows he's imagining it too. So when he asks if he can walk her home, she hears herself whisper yes . . .