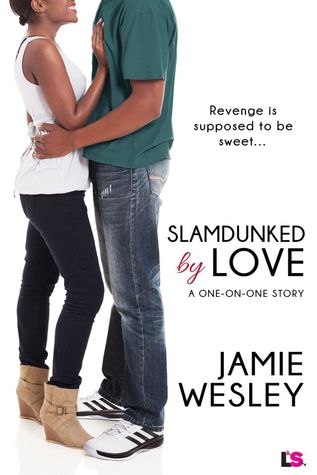 In Slamdunked by Love (One-on-One #2) by Jamie Wesley, Caitlin Monroe has one thing on her mind – revenge against her father whom abandoned her mother while she was pregnant with twins. Unfortunately, things don't go according to plan. Instead, her car breaks down on the way to a basketball team gala where her father will be in attendance since he's the team's big-shot coach. But what's worse is the team's newest player coming to her rescue and offering her a ride, then needing her to pretend to be his girlfriend when he finds himself the recipient of unwanted attention.
He waggled his finger. "Tsk, tsk. That's no way to treat your boyfriend, is it?"
"Keep on, and I'll show you how I'll treat you."
"Can't wait." He squeezed her hand. "But seriously don't let her bother you."
Her gaze skittered away. "Why would I? We're just playing pretend, right? There are a million more where she came from."
Brady Hudson is a man that knows what he wants, and it's to put all his focus into playing the game he loves in order to help his new team win the championship. There's no room for distraction, but that's exactly what the damsel-in-distress he helps is. Especially once he finds himself needing her to pretend to be his girlfriend as recompense for helping her, because he can't afford for another off-court incident to possibly destroy his career.
I love a good sports romance, and Ms. Wesley has delivered with this basketball themed book. Encompassing the fake relationship trope, a heroine determined to ruin her absentee father's reputation, and a hero determined to do his best to help his new team win the championship. I really enjoyed how this story started with Brady coming to Caitlin's rescue, as the heroine is uncertain whether to accept his help or not in case he has ill-intentions towards her.
Indignation settled on her face. "I'm not that short."
He loved riling her. She made it so easy. Somehow he managed to hold back a grin. "Yeah, compared to a five-year-old."
She snorted. "You must give lessons on how to flatter a woman."
"I do. I give other lessons too."
As for the dialogue, the teasing banter between Caitlin and Brady was very entertaining, and I loved every moment of it. Since Brady is a sports star, and the heroine has been hurt by an athlete in the past. Yet, Brady proves to Caitlin that he's different with everything he does for her and the way he cares for her. However, the dialogue also becomes intense due to both the main characters back stories, the trouble Brady finds himself in when he helps a team mate, and the secret Caitlin's keeping that could ruin their growing relationship.
I really liked both characters. Caitlin has her reasons for wanting to ruin her father's reputation. The man treated her mother poorly when he learned she was pregnant, and even though the heroine couldn't have asked for a better mother, it made me feel sorry for Caitlin. Because it seemed there were moments growing up where her mom struggled without the support of a man in her life. The heroine sees her plans for revenge as altruistic. A way to help her mother, and hoping that what she is doing will make her mom proud of her. Since she feels ever since her relationship with a sports star ended disastrously that she has to make it up to her mom.
Caitlin is strong and brave. How she struggles with her growing feelings for Brady and her plan for ruining her father's reputation made for interesting reading. As there was no doubt that Brady was going to be hurt when he learned the truth, and question whether she was using him to learn more about her dad. While the hero, he's charming and confident. The way he gains Caitlin's trust by helping her when she's in a bind was endearing. Even if – at first – he did try to manipulate her with a little quid-pro-quo type scheme, where because he helped her she should feel obliged to return the favor. Then there are the moments with his teammates. At the start, he's a bit of a loner and finding it hard to fit in with his new team. Yet, the ways he won them over was fantastic, especially when a team mate acts irresponsibly and Brady lands himself in trouble by helping.
The chemistry between Brady and Caitlin is strong from the moment they meet, and gets stronger as the story progresses. Indeed, it left me wondering when they were finally going to move their relationship from platonic to physical. Yet, when they finally do, their intense chemistry spills over onto the pages nicely in hot sex scenes.
Overall, I really liked this story, of which there were some secondary characters that I enjoyed such as Caitlin's best friend, and other secondary characters that annoyed me. Honestly, it's too bad that readers don't learn more about the woman that wants Brady and why she wants him. As for the ending, the moment Brady learns about Caitlin's secret was explosive. Yet, their reunion was wonderful. Because both Caitlin and Brady use the method of relaxation the heroine uses most when she's stressed to try and win each other back, which was actually quite sweet. I would highly recommend Slamdunked by Love, especially if you enjoy sports romance novels or the fake relationship trope.
Book Info:

Publication: December 14th, 2015 | Entangled Publishing | One-on-One #2
Revenge is supposed to be sweet…
Caitlin Monroe is ready to confront her past. Years ago, her father ditched her mother for the NBA, leaving her pregnant and alone. Now he's a big-shot coach, and Caitlin's ready to take the so-called "family man" down. But on her way to the team gala, her car dies, and it's her father's sexy new star player who comes to her rescue.
Brady Hudson wants nothing more than to put his past behind him and concentrate on winning the championship for his new team. But when he finds himself the recipient of unwanted attention—attention that could destroy his career—he introduces the beautiful woman he saved on the side of the road as his "girlfriend."
Brady needs to focus on his job. And Caitlin isn't about to date an athlete whose career is riding on her father—though he is a convenient way to get the dirt she needs. But sometimes love has other ideas, and it's not long before their pretend relationship becomes a liability neither can resist…