In Forbidden to the Playboy Surgeon (Paddington Children's Hospital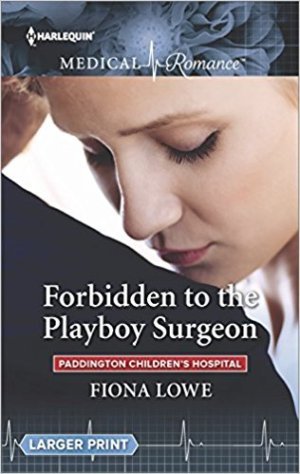 #2) by Fiona Lowe, Claire Mitchell loves her job and wouldn't normally do anything to compromise it, but she's finding it harder and harder to resist her boss, Alistair North. Especially when he's so determined to help her be more spontaneous, instead of the always focused woman that she is. Will they break the rules to be together?
"I rather like being alive every day."
"As do I. Live every day as if it's your last."
She took a careful sip of tea. "I've often found people who say that use it as an excuse to be selfish."
His smile faded and a line of tension ran along his jaw, disappearing up behind his ear. "That's a very jaundiced view of humanity."
What a captivating, fast-paced read Ms. Lowe has delivered in this second story of the Paddington Children's Hospital series; a series of six books penned by six different authors. It's a story that encompasses two main characters desperate to keep their secrets from being exposed, as they could have an impact on their jobs as medical professionals; a hero determined to show the heroine that she should live every day like it's her last and a heroine that needs things shaken up because she's way too serious.
The dialogue was very entertaining due to the main characters back stories, and I could sympathize with the heroine, because of all she's been through. Being someone picked on by others isn't easy to cope with, especially when she didn't have anyone sympathetic to her situation. However, she managed to overcome so much, which is proven by how much she's accomplished in her career. Really, she's strong, brave and I liked how determined she was to convince Alistair once his secret is revealed that there's nothing stopping them from being together. She'd rather live a happy life with Alistair, no matter how short their time together could be compared to a life alone without love and happiness.
"Why not enjoy yourself to the very last?"
She gave him a sideways look. "More of your live-for-the-moment mantra?"
"Sure. Just like we're living for the moment now."
A small frown creased her forehead. "I hardly think sneaking in here is very dangerous."
While Alistair, he was a wonderful hero with his live-life-every-day-like-it's-your-last attitude and I could understand why his secret would make him fear falling in love and not being there for the woman he loves if something happened to him. Also, I liked how the hero challenged the heroine to step out of her comfort zone and stop being so serious all the time. He's a bit arrogant about it, but in an endearing way.
Overall, Ms. Lowe has penned a fantastic read in this book where the hero and heroine had plenty of chemistry that spilled over onto the pages in nicely-detailed sex scenes that did justice to their chemistry. The way this story ended had me concerned for the hero, but I was glad that everything worked out between the main characters, because they both deserve happy ever after. Besides, the heroine isn't about to let the hero go, not after the words he said to her. I would recommend Forbidden to the Playboy Surgeon by Fiona Lowe, if you enjoy medical romances, the forbidden relationship trope or books by authors Kate Hardy, Annie O'Neil or Carol Marinelli.

Book Info:

Publication: March 21st, 2017 | Harlequin Medical | Paddington Children's Hospital #2
Unbuttoned—and out of bounds!
Sparks fly from day one between playboy neurosurgeon Alistair North and his talented, sexy trainee surgeon Claire Mitchell. He's on a mission to help überserious Claire relax, but his cavalier approach is driving her crazy.
Alistair is completely out of bounds, even if he is completely gorgeous—he's her boss! But when he confronts Claire after a difficult surgery, desire overcomes reason. With secrets holding them both back, can they find a way to turn their forbidden passion into forever?