Full Contact (Redemption #3) by Sarah Castille: Sia works in a tattoo parlor with the dreams of one day owning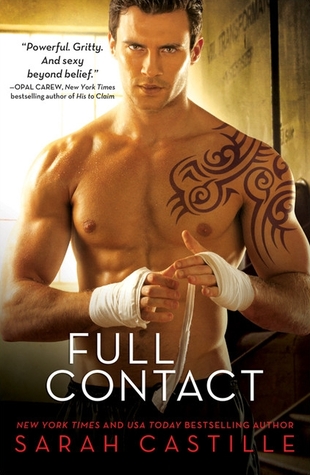 her own shop with state-of-the-art equipment. She's become a part of the Redemption crew since her brother teaches at that gym. Sia loves to watch the underground fights and Ray, aka "The Predator," is her favorite fighter. She's been watching his fights from the background for about a year, but now it seems like she finally has his attention when he shows up asking for a tattoo.
Tag, aka "Fuzzy," is Sia's overprotective brother and warns her away from Ray. While Ray is an accomplished underground fighter, there are questions about what he actually does. Ray is a PI and does some other work that he doesn't really talk about with anyone…ever. Sia has paid a steep price for not listening to Tag in the past, but she's drawn to Ray in a way that she's not felt before.
Ray and Sia have an explosive chemistry. While Ray is a good guy, he does provide Sia with the opportunity to finally act on her fantasies. The only problem is that she experiences panic attacks in the middle of those encounters. With their relationship, it seemed like for every step forward they also took another two steps back.
"Hi." I fold my arms and lean against the counter, feigning a nonchalance I don't feel in the least. "Long time no see."
He draws in a deep breath and stares at me, drinking me in as if I quenched a thirst in his soul. "Sia." My name is a soft whisper on his sensual lips. "Jesus. Those boots-"
"Are made for walking. Which is what I was about to do. I didn't think you'd be back."
"Neither did I."
Ray, like the other Redemption fighters, is incredibly protective, possessive, and territorial when it comes to Sia. He also pushes just enough for her to start painting again, something she gave up as a part of her old life. With Sia, he is patient and learns how to get around the situations that cause her panic attacks.
"Seriously?" I hold up the tattoo machine. "This tat is forever. If I slip up, it is a permanent mistake. I don't want to do that to you. You might not be able to…you know…keep it up."
He raises an admonishing eyebrow.
"Okay. I take it back. You are all lion all the time. But I have to draw the line at having sex while doing a tat."
Full Contact is a steamy push-pull romance between two damaged people who have to learn to fight their demons. Sarah Castille provides heartbreaking pasts for both Ray and Sia. I really appreciated how Ms. Castille developed Sia over the course of the story. Ms. Castille provided a good balance to Ray's intensity by incorporating humor. Full Contact can be read as a standalone. Fans of fighter romances and Katy Evans would enjoy Full Contact!
Book Info:

Publication: April 7th 2015 by Sourcebooks Casablanca | (Redemption #3)
When you can't resist the one person who could destroy you…
Sia O'Donnell can't help but push the limits. She secretly attends every underground MMA fight featuring The Predator, the undisputed champion. When he stalks his prey in the ring, Sia is mesmerized. He is dominant and dangerous and every instinct tells her to run.
Every beautiful thing Ray "The Predator" touches he knows he'll eventually destroy. Soft, sweet and innocent, Sia is the light to Ray's darkness-and completely irresistible. From the moment he lays eyes on her, he knows he's going to have to put his dark past behind him to win her body and soul.