In Blush by Cherry Adair, Being on the run from a killer has somehow given Blush Cosmetics CEO Amelia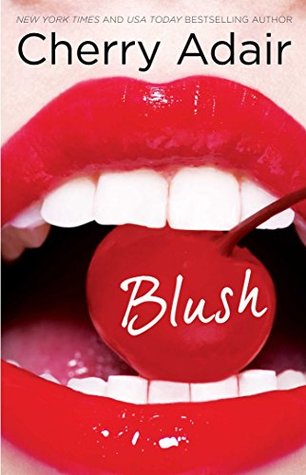 Wentworth the opportunity to have a bit of freedom for the first time in her life. Albeit in a weird way. She's hiding out in a rundown house in the bayou outside of New Orleans, Louisiana, with plans to indulge. First on the list? SWS, or sex with a stranger. So when gorgeous Cruz Barcelona shows up at her door, Amelia, now going by the name Mia, has a night to remember with him. But Cruz sticks around, helping out her with her house. And her libido. While the wild sex is great, Mia is still fearful for her life and now falling for this stranger. Can she truly trust him?
'No mask. No pretense. Nothing to hide behind. He was one of the few people who'd ever seen her for who she was. Almost.'
When hitman Cruz Barcelona takes a job, he makes sure his information is flawless and the mark is every bit as evil as he is warned they are. But five minutes after meeting Amelia/Mia, he knows something is wrong so he holds off on finishing the job. The more Cruz finds out about Mia's personality and her life, he's sure there's something even more sinister going on. He's never gotten so close to a mark before, or felt so many crazy things for a woman. This was supposed to be his final job before retiring to a beach in Brazil. So why can't Cruz let go of Mia?
'It was pretty damned remarkable to Cruz that they could have so much to talk about when neither was who they pretended to be. Their alter egos liked each other. Wasn't that a fucking kick in the head.'
What an exciting thrill ride Blush was! Mia and Cruz had a relationship every bit as steamy as the Louisiana bayou they were visiting. And then some.
Blush was the type of book that is very, very difficult to put down. The suspenseful plot–as well as our protagonist's relationship–was so intriguing and complex that it held my attention through to the final page. I wanted to know who hired Cruz to kill Mia. What was really behind the order to kill? Why was Cruz a hitman in the first place? And why was Mia so trusting of Cruz, even though she didn't know him at all? Author Cherry Adair did a fantastic job stringing the storyline along, giving just enough details to keep me guessing. And it wasn't all completely revealed until the very end, which was great.
I loved that Mia was such a strong, capable woman. She did everything on her own terms and made decisions based on facts and her own intuition. She proved to be a lot more caring than I thought she would be, where she at first only showed her tough-as-nails CEO persona. I enjoyed getting to know the real person underneath the mask. And Cruz was much the same, actually. I mean, who would have thought I could grow to care about the bad guy in the story? But he was a very complicated man who had his own troubles. And even though he was a hitman, he did still have scruples about what jobs he took and why he did his job.
As for the relationship between Mia and Cruz? H-O-T!! It honestly shouldn't have felt as natural for them to be together as it did, considering what was going on. But somehow Ms. Adair made it work extremely well. Things became so convoluted between Cruz and Mia that I could completely understand their confusion. With such crazy chemistry between them, it made it difficult enough. But to add to that, we had Cruz still deciding if he trusted his gut instinct over the intel he had about her, and Mia learning to be more free and spontaneous. A recipe for danger and lots of wild love scenes. 😉
I could go on and on about the intrigue, erotic romance, and amazing characters in Blush. I highly recommend checking this one out for yourselves…and see if you can figure out all the secrets!
Book Info:

Publication: April 7th 2015 by Gallery Books
In the same pulse-pounding style as Maya Banks and Kresley Cole, New York Times bestselling author Cherry Adair delivers a sizzling erotic romance about a sexy billionaire who's on the run—and the hit-man-turned-handyman who's supposed to kill her.
Sex with a stranger. Learn to drive. Learn to cook. Learn to pole dance. Sex under the stars. Buy a truck. These are just a few of the things on Amelia Wentworth's bucket list, but as the CEO and face of a multi-billion-dollar cosmetic empire, she's never quite found the time to do them.
Until, after a series of accidents, Amelia discovers that someone wants her dead. But who? And why? She has no time for questions as she changes her name to Mia, buys a secluded fixer-upper near the Louisiana bayou where no one will recognize her, and starts checking things off her bucket list like there's no tomorrow—which there might not be.
Meanwhile, Cruz Barcelona is a hit man who's promised himself this will be his last job. Then he'll take the money and move to a warm, sunny place where he doesn't have to hide anymore. But when Cruz goes undercover to Mia's ramshackle house, he starts to realize there's far more to this poor-little-rich-girl than he thought—and he starts to fall for her. Which is going to make his job a whole lot harder…