Game of Scones by Samantha Tonge is the first book that I have read by this amazing author and I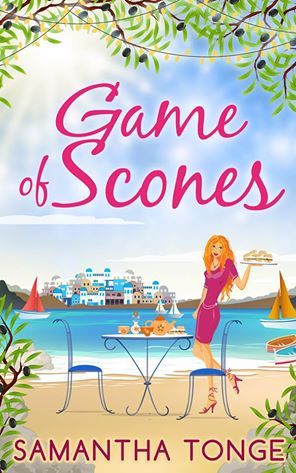 have added others to my TBR list cause this book was wonderful. I love a great foodie book and this book has some very mouthwatering treats to tempt not just the avid foodie, but the HEA junkies as well.
Pippa Pattinson has always done what was expected of her, she went into the career that her parents expected, she has the job that everyone expected her to have, she has the boyfriend that everyone thinks is perfect for her, her life on the surface seems perfect…..almost. Her secret passion is baking scones. Lots of scones, tasty flavorful scones that make you want to drool. She is also questioning her relationship with her boyfriend, she can't quite put her finger on it, but something is off with them and she is not sure what. Thinking that a 3 week holiday to her parents villa in tired little Greek fishing village of Taxos will help her clear her head. She is not perpared for 2 things, her current boyfriend coming along for the ride, and the feelings that she has at seeing her old childhood friend Niko.
Niko recognizes his old friend instantly. The feelings that he had for her so long ago surface immediately, and he has a hard time trying to hide them. The more time that Niko and Pippa spend together, the harder that they have to try to hide their feelings from everyone around them. But with Pippa's boyfriend making shady deals with a corrupt politian to destroy everything that Taxos is, with an sick grandmother, and Niko's beautiful fiance, it is enough to push Pippa to her limits.
It will take the village of Taxos and Pippa herself to join together to save their way of life, and in the process Pippa and Niko just may find their own piece of heaven in process.
I loved the relationship between Pippa and Niko. They were long time friends, they had a history, but they were both respectful of the fact that they were each with other people. Even though they had to hide their feelings, tried hard to keep their distance, there was that unbreakable connection between them. They could talk about nothing and everything and never get tired of the time they spend together. They really got each other.
I loved how their HEA came about. Now the scones that Pippa makes for the village and for Grandma, I felt like I could actually taste them. The descriptions in this book were vivid and real and allowed the reader to paint a picture of what this sleepy little town really looks like.
I loved Game of Scones by Samantha Tonge and would highly recommend it to anyone looking for a HEA steeped in friendship, tradtion, location, and yummy desserts.
Book Info:

Published April 20th 2015 by Carina UK
A story of icing and flour…and how love doesn't always go to plan!
Growing up, Pippa Pattinson's summers were spent in the idyllic Greek island fishing village of Taxos. There she spent many long hazy days determinedly ignoring thoughts of the life her parents had mapped out for her (a dreary-but-secure banking job and obligatory sensible husband!) Instead she daydreamed of running her own tea shop – serving the perfect scones –with mocha-eyed childhood friend Niko by her side…
Arriving back in Taxos for the first time in years, with suave boyfriend Henrik, Pippa barely recognises the tired little town – but is relieved to catch glimpses of the quaint, charming village she's always loved. Together Niko and Pippa put together a proposal to save Taxos from tourist-tastic ruin, and at the heart of their plan is Pippa's dream project – The Tastiest Little Tea Shop in Taxos. It's time for Pippa to leave her London life behind and dust off her scone recipe that's guaranteed to win over both locals and visitors. And amidst the rolling pins and raisins, it seems romance is blossoming where she's least expecting it…
If you're a fan of Lindsey Kelk or Lucy Diamond then don't hesitate to step into Samantha Tonge's truly delightful tea shop.