Going Down Hard: Carly Phillips can be relied upon to deliver an entertaining, sassy and often spicy romance, and Going Down Hard is no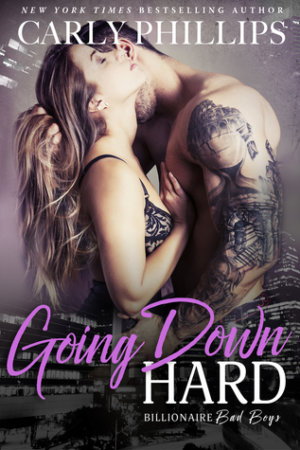 exception. It's the third, stand-alone book in the Billionaire Bad Boys series, and you do not need to read the books in order. Of course, the first two books are also great, so they are recommended reads as well.
Derek West's parents were the housekeeper and gardener for the wealthy Storm family, and he grew up in a guest house on the property. Derek is the same as Cassie Storm and had a bit of an adolescent crush on her until he overheard her say derogatory things about him and his parents. Cassie spoke during a peer pressure moment and didn't mean what she said, but she never had an opportunity to explain herself to Derek.
They go their separate ways, and Derek becomes a highly successful owner of a billionaire tech company. He has more reasons beyond the incident with Cassie to hate the Storm family now and has been looking for an opportunity for revenge. When Cassie comes to him looking for help that would benefit the Storm family enterprises, he wonders if this his moment of retribution.
The attraction Cassie and Derek felt for each other as youths has turned into full blown adult desire, and the chemistry simmers between them. They are pretty hot together and the physical relationship definitely opens the door for a more emotional one. The Storm family is still a very big issue and will continue to be unless Derek opens up to Cassie.
I loved both Derek and Cassie, because neither were over the top characters. They were both realistic and the kind of people you'd like to be friends with. Derek wasn't ruthless about seeking revenge, and he was open-minded when he see Cassie again. He realizes she isn't that person who said those immature things, and he turns out to be quite a sweet (and pretty darn sexy) guy. Cassie doesn't blame Derek for his anger and she comes to him asking for assistance but also with an apology . She's hard working, considerate and fair. They both communicate well with each and don't get into silly misunderstandings. They make a great pair, and Going Down Hard is a sexy, fun and romantic read.
Book Info:

Publication: February 21, 2017 | Self Published | Billionaire Bad Boys #3
Billionaire Bad Boys: Rich, Powerful and sexy as hell.
Derek West rose from poverty to take the tech world by storm. He's sexy, confident and gets any woman he wants. And who he wants is Cassie Storm, the rich girl he's never been good enough for.
She's desperate to save her family company and there's only one man who can help. But Derek isn't interested in helping. He wants to possess both the company and the woman he's never been able to forget.
His plan? To screw her out of his head. Except once he's had a taste of Cassie, he doesn't want to let her go. Her family remembers where he came from, and they won't allow it. When the truth about their pasts comes to light, though, it may be Cassie who's going down hard.