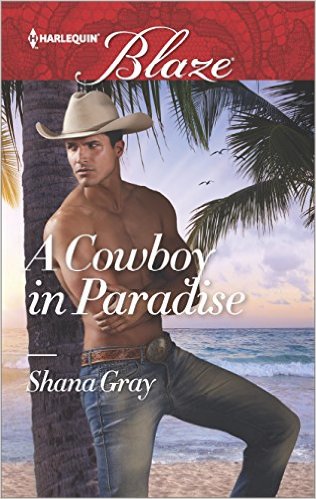 In A Cowboy in Paradise by Shana Gray, when Jimi Calloway said she'd attend her friend's destination wedding in Hawaii, she never imagined she'd be 'glamping' at some ranch. However, she can't be disappointed, even after discovering her luggage has been lost. Not when there's a sexy cowboy willing to give her the ride of her life. But what Jimi didn't expect was to fall in love with said cowboy. Will she give up everything she'd work hard for to be with him?
"Humph. Seems to be the way of things now, doesn't it. Rules. I need to start breaking some rules."
Dallas laughed. "Why am I not surprised by that?"
"What do you mean?" She was laughing, too, and he enjoyed their playful banter.
"Just that it's never boring with you. I like that."
"That's a good thing," she teased. "I'd hate to be boring and predictable."
This is the second book I've read by Ms. Gray, and although I really enjoyed the first book I read by her, this one gave me mixed feelings. In the beginning, I couldn't decide whether I liked the heroine or not. She's a bit judgmental in expecting a destination wedding to be the way she thinks it should and her confidence in thinking that Dallas will give in to their attraction almost immediately was a bit annoying. Just because there was plenty of chemistry between them did not mean Dallas was ready to break his rules of mixing business with pleasure.
I really loved Dallas. He was a fantastic hero with plenty of heart that would do anything for those he loved. He works hard to make his family ranch the success it is and I could sympathize with his reasons for not wanting a relationship, because of what his ex did. I also enjoyed the close relationship he had with his brother and that they could tease each other, even though the hero's brother is a little on the irresponsible side and Dallas always has to treat him as if he's always in trouble.
While the heroine, I really struggled to like her in the beginning. Growing up where she did wasn't easy for her and I could understand why she was so determined to make everything better for herself, so she could escape her past. Yet, I found her over-confidence in her pursuit of Dallas and her being overly concerned about the fact that she's at a ranch for a destination wedding instead of somewhere she's used to a little frustrating. She needed to tone it down a notch, and I found once she realized that not everything can go her way when she expects, I actually began to like her, especially whenever there was playful banter between her and Dallas.
"So this is a new side to you," Dallas commented before taking a deep swig of his beer.
Jimi smiled and murmured, "I guess there's a lot we don't know about each other, isn't there?"
He nodded and put the beer bottle down. "Apparently." Then he gave her a cheeky grin. "Discovery can be the most exciting part."
"Okay, how about we leave all that discovery stuff for another time? Preferably when you're alone…and not in a group setting?" Tucker suggested, and they all laughed, which helped to ease the lingering tension in the kitchen.
Overall, I did like this book, although there were more sex scenes than I expected there to be, even if this book is part of the Harlequin Blaze line. As for the sex scenes, they were really hot and showed the intense chemistry these two had from the beginning really well. The way this story ended with the appearance of someone Dallas would rather forget about had me worried these two wouldn't get their happy ever after. Yet, the hero proved me wrong. Moreover, I liked what Jimi was willing to do to be with Dallas, because if she didn't, she might not ever find the kind of happiness she's found with him again. I would recommend A Cowboy in Paradise by Shana Gray, if you enjoy a story full of exquisite heat and passion with an ending that will leave a reader satisfied with all this couple has overcome to be together.
Book Info: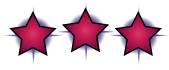 February 21st, 2017 | Harlequin Blaze |
Her island nights are heating up!
Losing her luggage was Jimi Calloway's first clue that her friend's Hawaiian destination wedding would be a nightmare. The fact that it's at a ranch instead of on the beach and she'll be "glamping"? It's officially the Vacation from Hell. Until this city girl gets a glimpse of her smokin'-hot cowboy guide. Suddenly this vacation is looking up…
Sure, Jimi's designer wardrobe is lost somewhere over the ocean, but she's too busy learning just how incredible—and incredibly wicked—"roughing it" with the sexy, rugged Dallas Wilde can be to care. Besides, it's only a vacation fling… Only, no one warned Jimi how easy it was to fall for a cowboy in paradise.