In Hate to Love You by Elise Alden, seven years ago, Paisely completely changed the course of her life when she became a pregnant virgin and then when she had sex with her sister Caroline's fiancé James after discovering the pregnancy. To make matters worse she pretended to be Caroline while doing the deed with her would be brother in law. All hell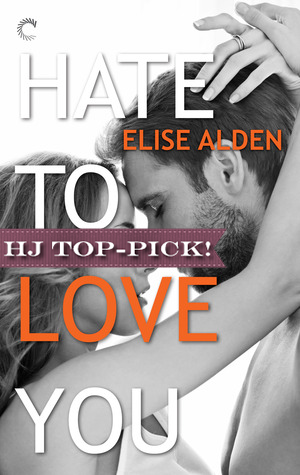 broke loose on Caroline's wedding day when a highly drunk Paisely confessed the whole thing moments after the ceremony. But her biggest mistake was lying that James was the father of her unborn child.
She lost everything that day seven years ago when she forced to give up the rights of her unborn baby to James. Disgraced and humiliated she left everything to start afresh and now after seven years she has decided to come clean and face the past.
Hate to Love you is a well written New Adult with a different storyline and concept. It has in your face explicit scenes and enough twists to keep you hooked. I loved Paisley's colorful personality towards life. She started out as a messed up drug addict and alcoholic eighteen year old but as the story progressed she evolved into a sensible, mature and strong woman. She had her faults and she doesn't fill in the conventional heroine requirements but I loved her all the same. James is the uptight moral hero and was in a total contrast to Paisley. It was fun seeing them collide and even more fun watching their completely opposite personality clash. The romance was passionate and it completely blew me away by its hotness factor.
Overall, Hate to Love You was a delight to read. If you want and edgy, sexy and passionate romance then this is the book for you.
Book Info:

Publication: June 2nd 2014 by Carina Press
Despite my slutty reputation, I was technically a virgin at eighteen. But it turns out all those sex-ed teachers aren't just trying to scare you. The faint positive on a budget pregnancy test sent me spinning, moments before meeting my sister's snooty new fiancé.
Shaking hands with upper-crusty James was like downing a triple shot of vodka. Dizzy with desire, confused by my body's reaction, and shocked by the possessiveness flashing in his eyes, I deceived him that night and told the world at their wedding reception.
The truth?
I slept with my sister's fiancé. Hot and sweaty, all night long in a room so dark he couldn't tell I wasn't her.
The lie?
Said fiancé is the father of my child. The one I signed over my rights to just before he was born.
That was seven years ago.
It's time to come clean.