Heartsong Cottage by Emily March was a complete surprise to me. This book is book ten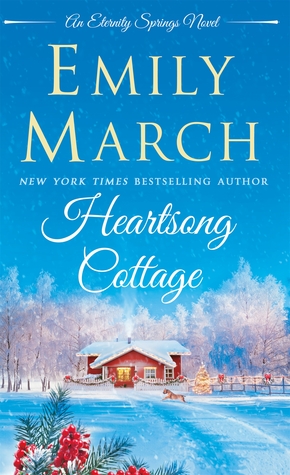 in the Eternity Springs Series but can be read as a standalone.
The very first pages of the story start with Daniel's son being brutally murdered. The emotions will grasp you as a reader just as it does Daniel. Not only does Daniel lose his son, but his wife kills herself not long after. Within the very first pages, I was hooked. I had to know if there was going to be a happily ever after with Daniel. I didn't even care who it was with, I just needed him to get one after this tragedy.
Ten years later, Daniel is now a detective and specializes in child abduction cases. His life is full of darkness, grief and exhaustion. Thankfully the upcoming wedding in Eternity Springs will provide him with a small break.
"Eternity Springs truly was a little piece of heaven in the Colorado Rockies, and coming here never failed to soothe his soul."
He's a hero to the people of Eternity Springs for what happened in a previous book. He doesn't feel like a hero though. He's lost and needs something or someone to bring the light back into his life. Shannon does just that.
Shannon flips houses, manages the bar in town, and does anything she can to keep busy. When she and Daniel connect at the wedding she starts to feel things, feelings she thought were buried when her fiancée was murdered. But Shannon is on the run and the last thing she needs is a relationship, but for one night, she'll take the comfort Daniel can offer. Only after they say goodbye, unexpected circumstances bring them back to each other. But with secrets plaguing each of them, can they overcome the unknown?
One of things I really enjoyed about this book was the connection between Daniel and Shannon. The intimacy they shared was conveyed easily without having descriptive sex scenes. To me, that was refreshing.
I really loved how the characters were able to find closure after everything they went through.
"What you went through is more than any heart should have to bear, Daniel. You've carried this cross for a decade. It's okay for you to set it down."
So much heartache and sadness, but there was light at the end of the tunnel for these two. They found each other. It's a bumpy ride for Daniel and Shannon, but with the help of their friends and a little faith, love will prevail.
This was the first book I've read from this author and I am kicking myself for not finding this series until now. Suffice to say I just added the previous books to my never-ending "to be read" list.
Heartsong Cottage by Emily March does have its dark moments, but life can be dark sometimes. It's reality. But life can also be full of sweet moments and second chances.
Book Info:

Publication: November 3rd, 2015 | St. Martin's Paperbacks | Eternity Series #10
Daniel Garrett is no stranger to heartache or tragedy. Once a successful detective, his world fell apart with his son's murder and his wife's suicide. Leaving the police force, Daniel devotes his life to finding missing children, but when a case goes sour on the anniversary of his personal tragedy, he returns to Eternity Springs hoping for some of the town's fabled healing.
Shannon O'Toole isn't looking for romance. After her fiancé's death, she closed off her heart. But she can't deny the spark between her and a sexy stranger at a friend's wedding. Shannon has her own secrets and has no place in her life for a private detective, even one who moves her as much as Daniel. But when the pair are thrown together on a case, the magic of Eternity Springs just might give them a second chance.