Home for Christmas by Lily Everett was another enjoyable trip to Sanctuary Island for me.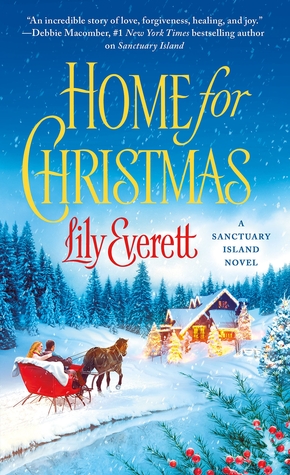 Libby is a writer and a story teller…only everyone who reads her work thinks her stories are real. Including her boss. When he comes up with a holiday plan on Libby's 'home' on Sanctuary Island that includes Libby's 'family' and an injured soldier, Libby has no choice but to come clean. The charade must continue though when her boss gives her an ultimatum, and Libby heads back to the place she hasn't been in years. Owen is on Sanctuary Island recovering from injuries and getting to know his young daughter. He has issues of his own, and the strong attraction to Libby is as unexpected as she is unreachable. After all, she already has her 'family'. Will either of them find peace on Sanctuary Island and the real family they long for?
The central plot to Home For Christmas is not really believable. Despite this, Lily Everett drew me into Libby and Owen's lives and made me care about what was happening. Libby truly is a story teller, with her own dreams unrealized. I liked her, I liked how open she was about almost everything and that she had her secrets, but didn't want to have secrets, and at the right times opened up. She is very enthusiastic in all she does! Gabe is an Army Ranger with lots of challenges ahead of him. He has big decisions to make, and while I didn't always agree with what he was doing or thinking, I understood him. The attraction and chemistry between Libby and Owen is palpable and was intriguing to follow along when they had to try to rein themselves in because of the situation. I truly hoped they could find a way to be together, because I could easily sense they were both hurting and could only be good for each other. Libby and Owen's characters develop well through Home for Christmas, and Gabe in particular really grows. This was heart warming and hopeful.
I loved the secondary characters! They all fit well in with the plot without overwhelming it. I really enjoyed Libby's grandfather, because I felt like underneath that gruffness there is a lot of feeling. It was great to see some characters from previous Sanctuary Island books and catch up with them. Owen's daughter is a sweet little thing who will at times makes your heart want to break and at all times fill it with love.
The setting of Sanctuary Island, the snow, and the season are all well described and I could feel Christmas in the air! It's a place I'd love to be!
Home for Christmas is part of the Sanctuary Island series, but in my opinion can easily be read as a stand alone.
I'd recommend Home for Christmas to any romance reader looking for a holiday read!
Book Info:

Publication: October 6th 2015 | St. Martin's | Sanctuary Island #4
Tis the season for family and love…
At least it's supposed to be. For Libby Leeds, however, the holiday season is just another reminder of things she'd rather forget. When she left Sanctuary Island as an orphaned child, she never thought she'd go back except in her dreams, dreams she's kept alive by writing monthly column of her fictional small-town life, until her publisher sends her back home for the holidays.
Owen Shepard is a fallen hero, wounded in action rescuing three of his fellow soldiers, but after a whirlwind of media attention, all this charismatic Army Ranger wants is to get back on his feet and make it to Sanctuary Island to be with his daughter in time for Christmas. What he didn't expect was to be put on a crash course with a columnist hiding her past. Will the magic of Sanctuary Island at Christmastime allow them to find healing together?