In Her Sinful Secret (The Disgraced Copelands #3) by Jane Porter, when the Copeland family comes under attack from the fallout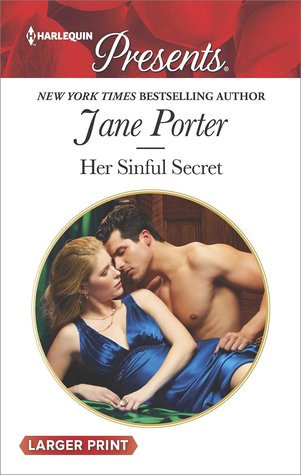 of what the head of the family did by ripping off his clients, Rowan Argyros comes to Logan Copeland's rescue. However, she's not about to give into his demands to whisk her away from her home so easily, especially since if she goes with him she'll be leaving her child unprotected. Yet, once Rowan learns the truth about what she's been keeping from him, will he hate her even more or will he do whatever it takes to win Logan back?
"You have quite the skill set."
"Years of practice, love."
"I commend your dedication to your craft."
His dark head inclined. "I tried to give you value for your twenty grand."
Every story I've read by Ms. Porter I have enjoyed immensely and this one was no different. Not only because it's an enemy to lovers trope encompassing story, but because the main characters have a complicated history and it's no wonder the heroine is so full of animosity towards the hero after the way he treated her in the past. The way this story started had me liking both the hero and heroine immediately, as Rowan is determined to keep Logan safe, even if it's from herself. Since her family is under attack after what happened to Logan's father and what he did, and no one in her family is safe. Can Rowan keep Logan safe? Will she be reunited with her family, or will things always be too dangerous?
As for the main characters, the hero is intense in a good way, because although he wants to hate Logan, he can't. As she's a good person despite all the things she's kept from the hero including giving him the chance to get to know their daughter and who she really was when they first met. Also, I liked how confident he was, how protective he was and how determined to prove that he can be a good dad to their daughter by pushing Logan to do what's right for their daughter, even if what he wants Logan to do isn't right for her.
While the heroine, she's been through so much because of her father's crimes and it's understandable why she is the way she is towards the hero. How can she trust him after what he said to her and the fact that he has reasons for hating her father? Also, she's strong and brave the way she stands up to the hero and refuses to give in to his demands about what he wants for their future. But what I liked most of all about the heroine is she's a good mother and a woman determined to risk her own safety to see her brother. Then again, with what was happening with her brother, it was understandable why she was willing to take the risk. Would her brother completely recover from what happened to him?
Come all the way in so I don't have to keep shouting."
"I don't want to come in. You're showering."
"I'm sure you've seen a man shower before."
She hesitated. "Actually, I haven't."
For a moment there was just silence and then she heard his low laugh. "Then you definitely must come in. Consider it remedial education."
"Not necessary. My education was excellent, thank you. I attended some of the best schools in the world."
Overall, Ms. Porter has penned a really good book in this third Disgraced Copelands novel, where the chemistry was strong, the romance was delightful and the teasing banter between the hero and heroine breaks the tension of how badly Rowan hurt Logan in the past when he found out the truth of who she really was. The way this story ended was fantastic, despite the news of Logan's brother. Can she help him get better by being there for him? However, the reason the ending was so good was because of the words Rowan says to Logan about how he wished their relationship could have gone in the past. Certainly, he makes Logan feel special by his words and what he's willing to do to help her family. I would recommend Her Sinful Secret by Jane Porter, if you enjoy the enemy to lovers trope, second chance romances or books by authors Andie Brock, Dani Collins or Cathy Williams.
Book Info:

Publication: May 23rd, 2017 | Harlequin Presents | The Disgraced Copelands #3
The secret she never told…
Heart racing, Logan Copeland cannot look away from tycoon Rowan Argyros as he declares her life is in danger. All she can think is that Rowan took her virginity, heartlessly rejected her after a night of reckless abandon…and is the father of her child. She must reveal the truth before she's whisked away to Rowan's castle for safety…
Isolated together, Logan finds herself at the mercy of Rowan's unrelenting need to claim her–and their daughter! Logan has known no touch but his, and yearns to feel it again…but to do so, she must agree to meet him at the altar!