His Mistress by Blackmail by Maya Blake is a passionate romance that starts with a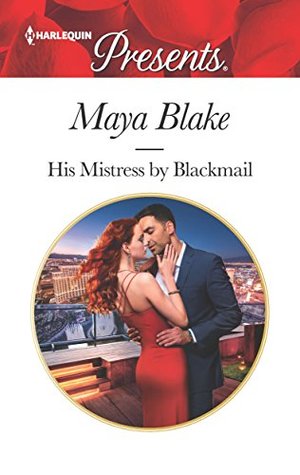 hero out for revenge but ends with him falling in love with a beautiful and courageous dancer.
When security guard Benjamin Woods steals a precious heirloom from casino magnate Xandro Christofides, Xandro's only link to the whereabouts of the thief is through his sister, aspiring dancer Sage Woods. She won't give him any information about her brother though, so he has to resort to more nefarious means.
Sage is hoping to get a position with the Hunter Dance Company and when she's chosen to compete in an audition on a luxurious Greek Island, it almost seems too good to be true. And then she finds out the man who has bought the company is none other than the one trying to find her brother. Xandro makes it clear that she won't be leaving his side until her brother returns his belongings. Blackmailed into playing the part of his current partner, Sage soon finds that pretending gets more difficult as she finds herself attracted to Xandro – and the feeling is mutual. Will Xandro's plan for revenge be thwarted by true love?
I really enjoyed this story! It's a slow burn romance, with Sage and Xandro starting out their fake relationship through blackmail but when they eventually sleep together it's with Sage's full consent.
The locations range from dance auditoriums to Xandro's private Mediterranean Island. Sage's dancing is an important part of the story, and I loved those scenes. She's a strong, confidant young woman with strong loyalty to her brother, even if he's been making some poor decisions. She's willing to do anything to keep him out of jail, including playing the part of Xandro's latest partner.
It's not long before Xandro starts to realize he's more interested in a real relationship with Sage than getting revenge on her brother. They share some sexy scenes as they connect emotionally. Sage isn't the only one with a history of family problems and Xandro shares his past with her. Their relationship is at times tempestuous but full of energy and emotion as they eventually admit their true feelings. They have to deal with the issue that started them on the road to true love and here Xandro shows his compassionate side. It's an entertaining, sexy and very enjoyable romance.
Book Info:

Publication: Mar 01, 2018 | Harlequin Presents |
The first rule of blackmail?
Always stay in control
Ruthless Alexandros Christofides will stop at nothing to recover a precious family heirloom—including using delectable dancer Sage Woods as bait! But his plan to blackmail her into compliance unravels when he discovers just how quickly their attraction ignites! Now Xandro's in danger of forgetting his own rules—because in this game of seduction, there can only be one winner…