In Straight, No Chaser (The McLaughlins #2) by Shelli Stevens, Colin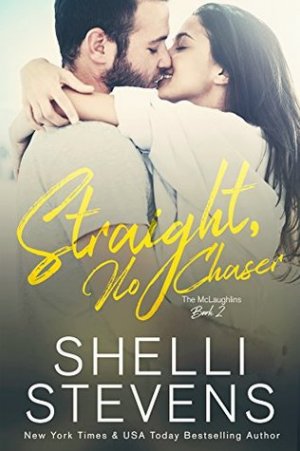 McLaughlin faces a dilemma. He despises Hailey Anderson for what she did years ago, but at same time, he finds her beautiful and intriguing and hard to stay away from. And when Hailey's past comes back to haunt her, Colin finds himself doing everything he can to keep her safe. Will Hailey give Colin a chance, or are Hailey's past demons too much for her to ever think they have a shot at happy ever after?
"You know we could ask her to leave."
"And why would we do that? She's every right to be here."
"After what she's done to Sarah and Ian?"
Aleck waved the dishrag in his hand in dismissal. "Years ago, dear brother. She's a customer. We don't discriminate just because–-"
"—someone's a black hearted bitch without morals?" Colin finished on a mutter.
I love a good enemy to lovers trope encompassing story and I've got to say that Ms. Stevens pens an absolutely brilliant one in this book where Colin loathes Hailey for what she did to his twin brother and Sarah years ago, but at the same time, can't help but be attracted to her. The way this story started had me liking the hero immediately because he's good at his job and isn't afraid to go head-to-head with anyone that poses a threat to any member of his family. However, it was from the moment the hero and heroine come face-to-face for the first time that had me reading quickly, determined to discover whether Colin will ever to be able to fully forgive Hailey, especially once he discovers everything about her past and her reasons for doing what she did to one of her best friends.
As for the dialogue, it was intense due to the main characters back stories, especially that of the heroine, as she's been through tough times. Yet, in saying that, I liked how well she's done for herself and that she's managed to overcome her past to be the hard-working and resilient woman she is now. I also liked how she handles everything she goes through in this book such as an ex-boyfriend that won't leave her alone to believing she isn't good enough for someone like Colin. Will she finally escape her past? Will Colin be able to convince Hailey that she is good enough for him?
While Colin, he's a good cop, protective of his family and I liked how determined he was to resist Hailey, even though it seems impossible with everything she does to make things right and the times she even helps him out. I also liked that the hero didn't let his past and what his ex did stop him from moving on and how he handled things with his ex that proved how much he cared for Hailey. Yet, what I liked most of all about the hero was the tight bond he shared with his siblings and that they would do anything for each other including offering sound advice to Colin when he needs it.
"Now back to the auction: you're both still in, aye?"
"Aye," Ian agreed.
Colin nodded. "I suppose it's all in good fun. Raises money for a different local charity each year."
"Oh give it a rest. You know you all love it because you've become such hot commodities." Kenzie cam out the back door, carrying all the trimmings for the burgers. "Now, the gigantic inflation to your ego is a bit of a nuisance we have to deal with after the fact."
Overall, Ms. Stevens has delivered another wonderfully engaging and captivating read for this series where the chemistry between this couple was powerful and spills over onto the pages in nicely-detailed sex scenes that had me cheering for this couple's happy ever after; and the ending had me loving what the hero was willing to do for the heroine and his determination to finally win her heart. However, it was right at the end that wrapped this story up nicely and will have readers looking forward to the next book. Has another McLaughlin finally met their match? I would recommend Straight, No Chaser by Shelli Stevens, if you enjoy the enemy to lovers trope or books by authors Jeannie Moon, Jamie Beck, Kadie Scott and Eve Gaddy.

Book Info:
Becca| 5 Stars | HJ Recommends | No |
Publication: March 13th, 2018 | Tule Publishing | The McLaughlins #2
Deputy Colin McLaughlin is never looking for love, but something stirs his blood when former high school crush Hailey strolls back into his family's Whidbey Island pub. He wants to keep nursing his anger at the woman who betrayed his family and nearly ruined his brother's life. Instead, the desire burns hotter than ever… Not that he'd ever act on it.
Hailey Alexander knows her past is littered with mistakes. She's worked hard to move on, but a certain Scottish-born deputy isn't in any hurry to forgive or forget.
Can they fight the attraction that's compromising their hearts?