In One More Round (The McLaughlins #1) by Shelli Stevens, Ian McLaughlin and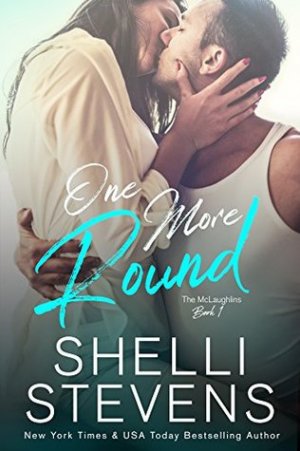 Sarah Rawlings were inseparable, but then one night changed everything when she found him in bed with one of her best friends. However, now years later, Sarah is back and needing to spend to spend a month on Whidbey island in order to inherit her grandmother's house. She knows it's going to be hard to avoid Ian, as she and his sister are best friends, but what's a woman to do, especially when she's desperate to keep her secret. Will Sarah and Ian get their second chance at happy ever after, or will they go their separate ways when Ian discovers the truth of what Sarah is hiding?
"Fill me in, already. Who was with her?"
"Sarah," Ian finally growled.
"Sorry, who? Tera?"
Ian tipped back the scotch and slammed the glass on the bar. "Sarah."
"Sarah?" Aleck went still and tilted his head. "As in your Sarah? The good girl you shagged around with in your youth?"
I read this story when it was first published as Good Girl Gone Plaid, and I've got to say that I never get tired of the McLaughlin family, as the brothers are a bunch of flirts whose looks and charm bring women flocking. Still, Ian has only ever loved Sarah and nothing has changed that, even though he's dated over the years. The way this story had me sympathizing with the heroine, as she's lost someone she loved and coming back to the island isn't easy after everything that happened with Ian and the secret she's keeping; a secret that she intends to stay buried. However, it was from the moment the hero and heroine come face-to-face for the first time in this story that had me excited to keep reading, as there's still plenty of chemistry between this pair, and yet, Ian can't help but try and charm the heroine like he did all those years ago. Will Ian be successful in getting to the heroine?
"You haven't changed a bit, have you, Ian? Still a complete jerk when you want to be."
"When I need to be," he agreed softly.
Kenzie stepped forward, placing herself between him and Sarah. "Okay, really? Stop this sh**. What are you guys, fifteen?"
"Twenty-nine. Colin and I both are, actually. Twins if you recall."
"You're not even a little bit funny right now. In fact, you're quickly making it on my sh** list. So, yeah, we're going to leave."
As for the dialogue, it was very entertaining due to the main characters back stories that had Sarah's father never liking Ian and the history between these that had Sarah say some harsh things to the hero when things went awry years ago. Yet, I loved that these two get their second chance at forever since Sarah needs to finally let go of the secret she's been keeping. Moreover, the heroine is resilient, courageous and I liked how she handled everything, especially the moment when Ian learns the truth of her secret and what the two learn about what happened all those years ago. I also liked how willing she was to give the hero another chance, even though they hurt each other badly all those years ago with their actions and words. Why didn't the heroine trust in her relationship with Ian?
While the hero, he was a bit of a jerk in the beginning, but there's no way he wasn't going to win me over with his charming ways, especially since Sarah is the one that got away and he's determined to win back her trust and hopefully have the future with her that they should have had all those years ago. I also liked how loyal and close he and his family are and that they would do anything for each other, especially since it's not just Ian that ends up being hurt by Sarah's secret. Yet, what I liked most of all about the hero is how he turned his life around from since getting out of prison. Then again, who could blame him for wanting to protect his family for the reason that landed him in prison in the first place.
Overall, Ms. Stevens has delivered a wonderful read in this book where I loved how these two were determined to make things work between them and that Ian is willing to do whatever he can to prove to Sarah that he wants her despite everything that causes their relationship to go awry again. However, it was right at the end where things take an interesting turn, as Sarah and Ian learn the truth of Ian's betrayal all those years ago and how much it hurts Sarah to know that someone she loved was willing to hurt her as badly as they did back then. I would recommend One More Round by Shelli Stevens, if you enjoy the second chance romance trope or books by authors Jane Porter, Dani Collins, Erin Nicholas and Samantha Chase.
Book Info:

Publication: February 13th, 2018 | Tule Publishing | The McLaughlins #1
When Sarah Rawlings fell for her best friend's older brother in high school, she knew he was trouble. But she couldn't resist his pull and the sweetness she sensed underneath his protective bad boy persona. Their relationship was everything she had ever dreamed of, until she was rocked by his painful betrayal. Eleven years later, Sarah must return to Whidbey Island following her beloved grandmother's death. She knows she must stay away from Ian, but he's not making that easy and every time she sees him, she's reminded of what might have been.
One look at Sarah stirs up memories regrets that still linger in Ian McLaughlin's heart. She was the love of his life and he still can't understand how he blew it and how she could have also hurt him so badly in return. He plans to steer clear of Sarah while she's on Whidbey Island, but that's impossible when she's often at his family's pub. Thinking to indulge in a little casual seduction for fun, neither is prepared when the embers burst into flames.
So many years and secrets separate them. Can their powerful attraction also include understanding and forgiveness?