His Perfect Partner by Priscilla Oliveras is the author's debut romance and the first story in her sweet romance series Matched to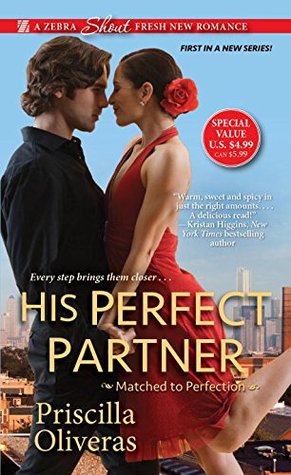 Perfection, about a group of Latina sisters who find love in unexpected places.
Yazmine Fernandez is a dance teacher at a local center, but used to live in New York and spent time on Broadway. She's back home in Chicago with her sisters because her father is dying of cancer. She believes that she should be pursuing a dance career because it's what everyone expects but truth be told, the idea of returning to New York doesn't make her happy.
When she meets Tomas Garcia, the divorced father of Maria, one of her young dance students, she finds yet another reason to deter her from wanting to return to NY. They strike up an honest friendship, one where there are up front with each other that Tomas isn't looking for a new wife (though his family thinks he should) and Yaz has every intention of leaving in a few months. But when they start having other feelings for each other, will they own up to them in time?
This is a really lovely, sweet (kisses only) romance. It's also quite the tearjerker, as the subplot of Yaz's father dying of cancer (there is no miracle cure here, just the honest and difficult adjustment to reality) takes place through the course of the story. It draws the three sisters together, and also is a means to help integrate Tomas into the family as he becomes someone Yaz can rely on, both for his listening ear and a comforting shoulder.
Tomas is understandably gun-shy when it comes to another relationship, after being abandoned by his partner with their baby when she announced she wasn't interested in being a mother and took off. He's raised Maria by himself and this has required a lot of sacrifice on his part, working long hours to make sure they have a comfortable life. It's easy to see why Maria would be drawn to a mother-figure like Yaz. Though they are only teacher and student, they share a strong bond already that would be easy to expand into a mother-daughter one.
The Latinex cultural heritage is an integral part of the story on both sides and adds an authenticity to the characters and their daily lives. It's a thoroughly enjoyable read (be prepared for tears) as Tomas and Yaz find in each other a supportive partner, a friend, and a love destined to last. I look forward to reading more from this author!
Book Info:

Publication: Sep 26, 2017 | Zebra Shout | Matched to Perfection #1
Ad executive Tomas Garcia shouldn't even be thinking about his daughter's alluring dance teacher, Yazmine Fernandez. Burned by a shattering divorce, he's laser-focused on his career and giving his young daughter, Maria, the secure home she deserves. Plus, he's certain that with her talent, Yaz will be leaving Chicago and heading back to Broadway as soon as she can. But Yaz's generous spirit and caring concern are sparking a desire Tomas can't resist and doesn't want to let go . . .
For Yaz, good-looking workaholics like Tomas simply can't be part of her life ever again. She owes it to herself to get back her confidence and fulfill the dreams her papa could not. She's glad to spend time with Maria and taste the family life she feels she can never have. And she's sure that she and Tomas can keep their attraction under control because there's so much at stake. But each unexpected intimacy, each self-revelation, makes the fire between them grow hotter with every step and every risk to their hearts . . .