Without Words by Delancey Stewart: Finally, Dani is realizing her dream of opening a bookstore and wine lounge in a funky San Diego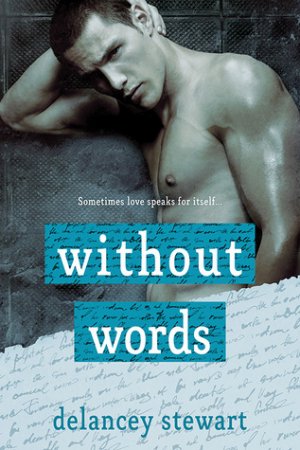 neighborhood. But she has to refurbish the entire building and she's discovering her skills might not be good enough. But then comes along ex-firefighter Rob DeRosa.
A year ago, Rob had an accident on a call-out; one where woke up from a coma and they weren't sure if he would ever speak or walk again. Rob worked his way out of that hell, but even so his mind is still jumbled and speaking is still difficult. Which is why he's hesitant to begin anything, even just work with Dani. But coming upon her at her storefront, he can't help but stop and offer his help.
Dani is the first one in a while to make Rob feel normal and worthwhile. While everyone has been getting on him to find new direction, she's the only to let him be and encourage in the work he's doing on her store. But with his issues still upfront and the father and brothers he left in Mexico calling him, Rob's new direction couldn't possibly include Dani.
With unique characters and an involved story line, I definitely enjoyed Without Words. I couldn't help but root for both Rob and Dani as they each need to find their way, particularly Rob. It's definitely mainly his story, but that doesn't lessen the impact of Dani at all.
I don't know the realities of Rob's struggle, but for this romance it worked. It wasn't overbearing, rather it provided a real and a bit of a damaged character. One who was still finding his way and trying to figure his new path out, with the very unhelpful help of his family.
I highly recommend Without Words for those who want a unique romance. It's passionate and endearing.

Book Info:


Publication: March 22, 2017 | Entangled Publishing |
Sometimes love speaks for itself…
After an accident in the line of duty, firefighter Roberto DeRosa's life is turned upside down. His career fighting fires is over, and he's left with an uncertain future and an injury that makes communicating difficult for him. The only time words flow easily is when they're lyrics and he has a guitar in his hands. Talking to women is definitely out, especially if they have bright blue eyes that seem to see right into his soul.
Dani Hodge is on the brink of realizing her dream of opening a small combination wine and book store in San Diego's funky Ocean Beach neighborhood. But before she can open the doors, there's work to be done, more work than she can do herself.
When the tattooed guy who completely ignored her at a bar walks by and offers her a hand wrangling a tile saw, Dani can't afford to say no—and why would she say no to Mr. Strong and Silent when his stare conveys more than words could?