Hot Asset by Lauren Layne: Ian is smart, cocky, sexy, and quite the playboy. He's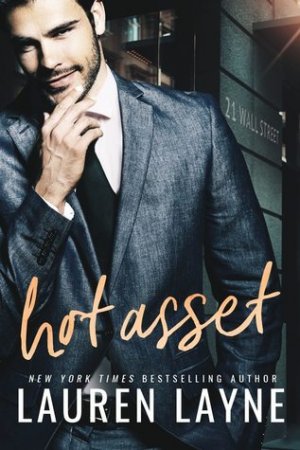 enjoying all that his life entails as a Wall Street investor between the expensive suits, almost penthouse, car, and plenty of parties. He built himself up from his much more humble beginnings and fought for everything he has. But it's all in jeopardy when the SEC begins their investigation of him.
Lara is a by-the-book, rule-following, and dogged investigator. She is great at her job and she's made her work her life. Her current assignment is hopefully the stepping stone she needs to land her dream job. She is smart, practical, and just a little lonely.
Investigating Ian for insider trading should be fairly simple; he's seemingly the typical successful, arrogant, rich Wall Street type that just might cut some corners or cheat to get ahead in such a competitive, fast paced world. Lara is a challenge when she doesn't immediately fall for his charm, even though she's not really his type.
She surprises me by laughing, and not a flirty, breathless laugh but an at me laugh. "Seriously? Do those lines usually work for you?"
"Honestly?" I give a small smile. "Yeah."
"Well"-she sips her coffee-"let me know when I'm supposed to fake the swoon."
Ian's charm or persistence usually gets him whatever he wants, but Lara isn't falling for his charm and she's just as persistent in doing a thorough investigation. They banter and fight, but both are finding that they are drawn to each other, despite the case. There's an undeniable spark, which is harder to deny the more they get to know each other.
"That's not how this works, Mr. Bradley."
He shrugs and starts to set his napkin back on the table. "Good luck getting your subpoena, then, because that's the only other way-"
"Fine," I say, a little desperate. "A question for a question."
Hot Asset has banter, tension, anticipation, mystery, surprises, and plenty of heat. Lauren Layne delivers an entertaining, engaging, can't put this down battle of the sexes. Ms. Layne created a great cast of characters and friendships that I can't wait to read about in the rest of this series. Fans of Sydney Landon and Julie James will enjoy Hot Asset.

Book Info:

Publication: May 22nd 2018 | Montlake Romance | 21 Wall Street #1
A sexy agent hounds Wall Street's hottest new wolf in an exhilarating novel from New York Times bestselling author Lauren Layne.
Ian Bradley is the definition of a Wall Street hotshot: seven-figure salary, designer suits, and a corner office. His drive off the floor is just as potent. Every woman who knows him has felt the rush. But now he's met his match in Lara McKenzie—a woman with the power to bring Ian to his knees.
An ambitious, whip-smart daughter of FBI agents, Lara is a rising star in fighting white-collar crime. Her latest case—the investigation of Ian Bradley for insider trading—could make her career. She knows a scoundrel when she sees one. Ian fits the bill: a cocky, ridiculously handsome bad boy with a slick swagger.
She'll do anything to prove he's guilty. He'll do anything to prove he's not. But it's only a matter of time before their fierce battle of wits gets oh so hot and personal. Now, taking down Ian has become more than business for Lara. It's become a pleasure—and there's more at risk than she ever dreamed.