Hot in the City by Jules Court is the first book I've read by this author, but definitely not the last. The characters were intriguing, the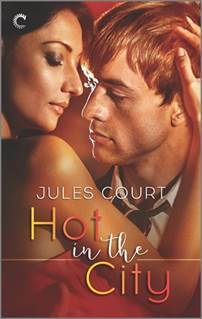 writing was great, and it didn't take me long to become enthralled by the story.
Priya Shah is an ER doctor, who is honestly a good person. She's dedicated to succeeding in her career and wants to make her parents proud of her. She doesn't do relationships. She was burned once and the relationship left a sour taste in her mouth. When the sexy cop she stitched up starts asking questions about Priya's cousin, she knows things are about to get heated.
Detective Brian MacGregor wants to find Priya's cousin, Sara, for an investigation, but he also wants Priya in his bed. Technically, he's getting himself into a tough situation going after a witness's family member, but he doesn't care. The hot doctor does something for him and who else is going to take care of her, because she clearly doesn't take care of herself.
Priya and Brian are really hot together, but it's more than that. There's a connection between them, that is undeniable and even though they both have their own reasons for not getting involved, it's not going to make a difference.
"Their hands were joined, bare skin to bare skin. A spark it up within her core."
I liked both characters and thought these two were a good match for each other. Priya was very intriguing with her cultural background and very different from the usual heroines. Brian was sexy and not about to let Priya hide from her feelings. Overall, a good read that I would recommend to anyone.

Book Info:

Publication: March 27th 2017 | Carina Press | Hot in the City #1
The first time Detective Brian MacGregor met Priya Shah, he was bleeding. Injured apprehending a suspect, he just needed a few stitches. He didn't expect to feel a gut punch of lust for the beautiful ER doc. But another emergency called her away before he had a chance to ask her out…or kiss her. Or find out if she shared his sudden sex-in-a-dark-hospital-room fantasy.
The second time he met Priya, she was protecting a murder witness.
Protecting is putting it strongly, if you ask Priya. Her cousin may have witnessed a murder, but she had nothing to do with it. Even if the hot ginger cop seems like the perfect solution to Priya's summer dry spell, they both have more important things to worry about. Like finding Sara before the murderer does.
As far as Brian's concerned, Priya is the key—her cousin is bound to come back to her eventually, and when she does, he'll be there. They just need to keep their hands off each other until then. But when attraction burns this hot, it's only so long before someone has to break…