House of Cads by Elizabeth Kingston is the second romance in her Ladies of Scandal series. The heroine,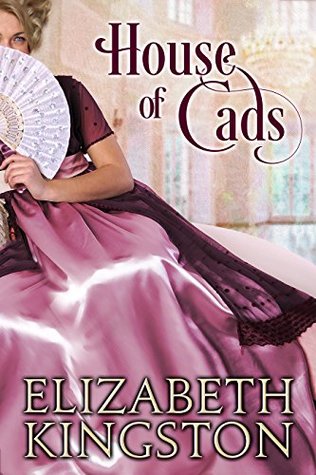 Marie-Anne de Vauteuil was introduced as a secondary character in A Fallen Lady as a friend of the the main character, Lady Helen. Each story in the series is a standalone romance and I highly recommend A Fallen Lady too if you haven't yet read it.
At one time Marie-Anne had been engaged to Lord Richard Shipley, but unwed and pregnant, she had lost the baby and her fiance had died. His parents had been horrified by their affair and ostracized her completely after Richard's death, leaving her penniless. She'd ended up in the small village of Bartle and is living a quiet life. The marriage of her friend Lady Helen to Lord Stephen Summerdale has resulted in a reputation boost, as no one would speak out against a friend of the wealthy and well liked Lord Summerdale. The Summerdales have moved on to London and Marie-Anne is feeling increasingly bored in her village. When Marie-Anne receives a letter from Richard's sisters to come to London and help them with some situations they find themselves in, she obliges.
She soon finds herself at a country house party with the Shipleys and other guests and introduced to a handsome American businessman, Mr. Mason. Dahlia Shipley is engaged to Mr. Mason, a happenstance that Mason is somewhat bewildered to find himself in since it wasn't intended and in fact, Dahlia is much better suited to a Duke also at the party. Mason and Marie-Anne figure out a plan to put an end to that engagement and help her end up with the right man. They develop a friendship, and once the engagement is dealt with, pursue an amorous and secret affair. Yet, Mason turns out to be not what he seems. Are the feelings they've been developing for each other fake too? And if not, can Marie-Anne find a way to help Mason save his reputation and their future along with it?
This is a a low angst, lighthearted historical romance that pokes a little fun at the upper class and how they relate to those around them, peers and servants. Marie-Anne would still be ostracized by the Shipleys if it weren't for her friendship with the Summerdales and she knows this. While she'd missed Richard's sisters, she has no love for his parents. She is quite willing to help the young ladies but makes it clear to his parents that they aren't invited to the country house party where she will stay with the girls and help them figure out their somewhat complicated love lives. Besides Dahlia's hasty engagement to Mason, her sister Amy is engaged to a rather priggish man with no imagination whom Marie-Anne finds quite stifling, and her other sister Phyllida is enamoured of a libertine poet. They are the source of much amusement as they traverse their own romantic escapades (with some surprises) and get their own much more suited happy endings.
Mason and Marie-Anne's friendship begins innocently enough but with the knowledge of a secret passageway between their rooms, Marie-Anne doesn't hesitate to make use of it. Mason is quite a talented lover, something Marie-Anne has been missing for a while. Being French, she has a much more permissible attitude towards sex than the Englishwomen she knows. As she and Mason get closer, she also discovers he's a very talented artist. But soon comes the news from Lord Summerdale who'd been having Mason investigated that he is not the businessman he claims to be but is in fact working with a gossip columnist to expose scandals and foibles of the upper class. .
Marie-Anne isn't sure what to think and she knows a future with Mason is out of the question unless he wants to rehabilitate himself in her eyes. In particular she is adamant that his work not expose her friends to ridicule. Fortunately Mason decides that Marie-Anne is worth any price to pay and comes up with a way to show her his feelings for her are genuine. The epilogue ties the story all together nicely with a glimpse of Marie-Anne and Mason's future. If you enjoy sexy historical romances that feature characters with flaws but good hearts, have a fondness for cakes, and love to see people get what they deserve, this one is well worth the read.

Book Info:

Publication: April 26, 2018 | Self Published | Ladies of Scandal #2
Vivez la vie pleinement…Live life to the fullest.
That's always been Marie-Anne de Vauteuil's motto. As a Frenchwoman of highly questionable upbringing, she was shunned by genteel society when her fiancé died years ago, leaving her a penniless, fallen woman. Almost married, almost a widow…She retreated to an isolated village where no one knows or cares about her sordid past. And with no one to answer to, she will do as she pleases, including eating cake until her corset strings pop if she so chooses. But then, an invitation to London on a mission of mercy from the very family that cast her aside lands Marie-Anne back in society—and into the arms of a man who can be nothing but trouble.
When life gives you lemons…Make petit fours.
Wealthy American businessman Mason is a) accidentally engaged, b) desperate to get out of it, and c) neither wealthy nor a businessman. Marriage is the last thing on his mind. Money, however, is always of utmost importance. He's only in London to gather material for the gossip pamphlets he illustrates, his scheme to make as much money as he can before he's found out and skips town. But when he meets the irresistible Marie-Anne, she makes him rethink his life as a fraud, and for once consider his true talent as an artist. Her carefree attitude about life in general—and sex in particular—has Mason hoping for something he never believed possible: A proper life with a not-so-proper wife.