In Guarding Suzie (Special Forces: Operation Alpha Kindle World) by Nicole Flockton, Ryan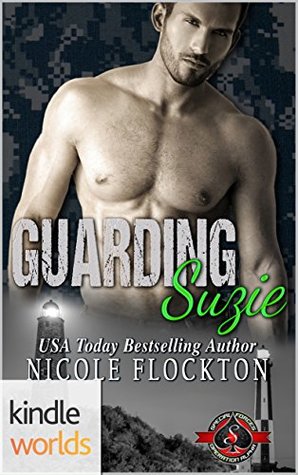 'Joker' Smith never thought he'd see Suzie Waterson again. But when he's shot on a mission and taken to be treated at the hospital where Suzie is a nurse, he finds his world turned upside by her admission that she's pregnant. However, Ryan is determined to be there for Suzie. But when she's threatened, will he be able to keep her safe or will they lose their chance at happy ever after?
Her tongue darted out to moisten her dry lips and Ryan groaned closing his eyes. "You are a siren in scrubs, Suzie Waterson."
She laughed at his description. But it had the desired effect and broke the sexual tension clouding them. "Let me tell you, there's nothing remotely attractive about hospital scrubs."
"I don't know. They look pretty sexy on you. It's probably a good thing you didn't visit me too much while I was in hospital. Those gowns you make patients wear are pretty unforgiving when it comes to disguising a man's desire."
I love a good surprise pregnancy story and Ms. Flockton has penned a wonderful read in this book that encompasses moments of humor because Ryan is such a charmer, two fantastic main characters that had me hoping for the best for this pair, especially since the heroine is being threatened and there was that possibility that something could happen to Suzie; and the dialogue was intense due to the main characters back stories, what happens to Ryan and the threat to Suzie's life. Will Ryan be able to keep her safe?
Both the main characters are fascinating due to their back stories, as the heroine has gotten free of a toxic relationship not long ago and there's no way she's going to let another man dictate her life. Can Ryan show Suzie how good a relationship can be? Moreover, the heroine is strong, brave and I liked that she let Ryan in, especially since he's nothing like her ex. I also liked how the heroine handles everything she goes through and that she would do anything to protect herself, her unborn child and anyone else from getting hurt because of the threat to her life; Yet, what I liked most of all is how the heroine fit in with the hero's friends, especially the women of the group that do anything they can to help Suzie through the difficult time she faces.
He shrugged his impressive shoulders as if he was an innocent in this sexual banter flying between them. "It's the truth."
"A truth I really didn't want to know, thank you very much. I have to go back to work tomorrow wearing scrubs. I'm never going to be able to look at a male patient again."
"You can't tell me you don't get a reaction when you give a guy a sponge bath."
Suzie shook her head, but couldn't stop the smile tugging at her lips. "I cannot believe I am having this conversation with you. You are insane, Ryan Smith."
"I made you smile and that's all worth it."
While Ryan, he lives up to his nickname as the 'Joker', but there's something really enchanting about the hero. His charm, his confidence and his determination to do right by the heroine are definitely all part of it, especially since he lets Suzie be in control of their relationship and there's no way he'd ever treat her like her ex did. I also liked the close friendships he shares with his SEAL teammates. The way they tease each other had me smiling and the way they support the hero when it comes to the threat to Suzie's life made me glad the heroine had others looking out for her when Ryan wasn't around.
Overall, Ms. Flockton has delivered another really good novella for the Special Forces: Operation Alpha where the chemistry between this couple was strong and just keeps getting stronger the more Ryan wins Suzie over; the romance was delightful and had me cheering for this couple because Suzie deserves a man that will treat her like a princess after what her ex put her through; and the ending had me worried for one of the main characters, but had me loving how far the hero was willing to go to protect the heroine. Will Suzie and Ryan come out on top against the person threatening her? Yet, what I liked most of all about the ending was how everything worked out for the best for the hero and heroine. They really are a splendid couple. I would recommend Guarding Suzie by Nicole Flockton, if you enjoy the surprise pregnancy trope, the sexy protector trope, or books by authors Susan Stoker, Lindsay Cross, Caitlyn O'Leary and Lynne St. James.

Book Info:

Publication: March 18th, 2018 | Self-Published | Special Forces: Operation Alpha Kindle World
After getting out of a bad relationship, Suzie Waterson has worked hard for her independence. Nothing is going to throw her off track, even if her life is taking a turn she hadn't planned on thanks to one night with a sexy Navy SEAL three months ago.
When Ryan 'Joker' Smith gets shot on a mission, the last person he expects to see walk into his hospital room is the woman he hasn't been able to forget. Her reluctance to have anything to do with him only makes him more determined to be front and center in her life.
Thanks to her past, Suzie can't give up her hard fought control over her life, though Ryan's sweet patience and sensual kisses, makes her want to. But when her life is threatened, she needs Ryan more than ever. Will he make it in time or will their chance to be together be lost forever?