How to Seduce a Cavanaugh by Marie Ferrarella: Right off the bat, the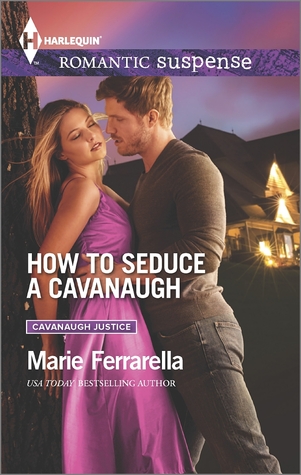 prologue had me hooked on this story right away. I don't usually care for prologues, but this one had my interest from the very beginning. As I was reading, my eyes became more focused and my eyebrows shot up at what was happening. To say I was intrigued is miniscule for what I was really feeling.
How to Seduce a Cavanaugh revolves around detectives Kane and Kelly. These two couldn't be more different, but since they are both partner less, they must learn to coexist. Kane is a loner, he's antisocial, and would rather to do things on his own. He prefers silence.
"You know, I had a hand puppet as a kid that talked more than you do."
Kelly believes in teamwork and having each other's back. What I really liked about Kelly was that she was persistent. She refused to leave Kane alone, and kept trying to make a connection with him. She's just want Kane needs in his life.
"This was not going to be easy. But then, her late mother had told her more than once that she had the ability to get along with the devil."
Kane's definitely not the devil, but he's a lot of work. Most women would give up on him, but Kelly is from a different mold. As the two work together to solve the home invasion case, their feelings for each other start to change and emotions start to blur.
Marie Ferrarella provides readers with a slow burn romance, which gives you a chance to really understand the characters individually, before becoming entangled as a couple. When Kane and Kelly finally act on their emotions, it changes things.
"Kissing her had been a break in his self-restraint. It had also, like it or not, opened up a whole new world for him. A world he had never given any thought to."
Fans of romantic suspense will find this book refreshing and entertaining.
Book Info:

Published: July 7th 2015 | Harlequin Books | Cavanaugh Justice #30
A lone wolf who'd prefer to work solo, Detective Kane Durant has been through six partners. His latest? A chatty, go-getter blonde he can't seem to intimidate with his killer stare-downs and deadly silence. But when they're assigned a case of home invasions in the ritzy section of town, he's impressed by Detective Kelly Cavanaugh's quick mind, her determination to catch the perp…and how badly he wants her.
With one month to prove herself to her tall, tough and sexy new partner, Kelly works overtime to crack the case–and the hardened detective by her side. But when late nights on the job lead to passion, Kelly's heart is suddenly on the line, too.