One Last Time by Denise Daisy is spellbinding. I'm going to be totally honest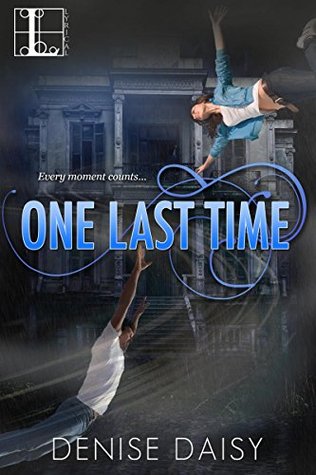 here, when I read the blurb, my first reaction was that there was no way I was going to enjoy this. Time traveling isn't high on my list of favorite tropes, but to my surprise I fell in love with this story.
There is so much depth to this story, that it will keep you turning the pages. As soon as I started reading, my interest was piqued and every time another chapter finished, my eyes glowed with excitement. Although, there were several instances while reading, I ended up shouting "what the hell just happened."
One Last Time takes you back in time, to where courage to do what's right takes a backseat to what is expected of you and where love, is the only answer in overcoming the challenges life throws at you. This story touches upon many issues, such as fear, slavery, and racism and the emotions not only jump off the page but also pull you in. It also drives home the message that you should always make the most of the time you have because every moment counts.
I cried at the end of this story. There was only a few pages left in the book and the despair of what Avery had lost, became too much to bear. I cried for Avery because there was no way for her to get her happily ever after….or so I thought. This author weaved many twists and turns into this story that I was enthralled throughout the whole book.
One Last Time by Denise Daisy is my first book by this author, but it certainly won't be the last. Even after finishing the story a few hours ago, I am still thinking about it. For me, this is a must read and for any reader who loves stories that pull you in and take you on an adventure, make this story your next read.

Book Info:

Publication: August 4, 2015 | Lyrical Press |
When it comes to love, time is all they need…Averie is terrified of anything remotely scary, but when she finds herself short of cash, she has no choice but to work on the catering staff at the creepy historic Faulkner mansion. The Faulkner Plantation was the site of a bloody massacre in the 1800s, and the event is an attempt to change its reputation. There's just one catch: the host has more in store than dinner. Soon Avery, along with a handsome guest named Quillan, is transported—back in time…
It's one month before the massacre and Averie and Quillan must find the courage to do more than survive. Together, they must uncover the truth about the Faulkner family and try and stop the murders. But as Averie and Quillan grow closer, the stakes are higher than they expected. Will they be able to put their feelings aside to change the past—and find life, and love, in the place Averie fears the most?