In Jilted by Rachael Johns, Ellie Hughes has been avoiding Hope Junction and its townspeople for over a decade. Leaving her fiance Flynn Quartermaine at the alter was a decision that she made as a scared teenage girl. But now that she's matured and is a successful actress, Ellie is not sure if it was the right choice. Especially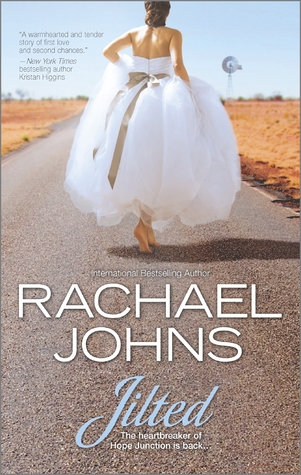 when she comes face to face with the Aussie hottie while back in town to take care of her beloved godmother, Matilda. Things are obviously awkward between them. And the whole town talking about her and shunning her makes it more difficult. But when the secrets behind Ellie's decision ten years ago starts to come out, as well as a confession from Matilda, their world gets turned upside down. The only person Ellie can turn to is Flynn. Will he be able to put aside their differences and support her or is there too much damage done?
"This town adores you, Flynn. I'm the scarlet woman. Evil incarnate. People cross the road when they see me or head down a different aisle in the Co-Op."
Taking care of the ranch and his family is what it's all about these days for Flynn Quartermaine. Sure, he once thought he'd have Ellie by his side with a few kids of their own to raise. But he's moved on from those dark days so many years ago after she left, where he let his demons get the best of him. So when rumors abound that Ellie is back in Hope Junction to look after Matilda, Flynn tells himself he can be an adult about it. One look in Ellie's beautiful eyes, though, and his feelings for her come slamming back into his chest. He knows he should still be angry with Ellie, but Flynn realizes that their attraction is too strong to ignore. He only hopes he can keep his head this time and not lose his heart to the lovely lady.
"Your place or mine?"
"Mine," he replied, taking care not to swerve off the road at the thought. "My bed's bigger. And for everything I've got planned, we'll need all the space we can get."
Jilted is a wonderfully emotional reunion story by one of the most solid romance writers out there: Rachael Johns. She never fails to amaze me with the incredible depth of the characters she creates, Ellie & Flynn being a shining example.
Who doesn't love a good second chance romance? I'm certainly a big fan of them. And I must say that I really enjoy reading Australian based romances such as this one. There's just something about the people, so resilient and caring, and with such a sense of community. Makes me want to go there and visit! Author Rachael Johns always seems to be able to set the stage in her novels so that even if I'm not familiar with the lingo or the geography, the characters and the situations they deal with are easy to relate to. Of course as we all know, love is universal, and Ms. Johns' books prove that fact to me, all while I'm escaping to a far off place like Australia living vicariously through the characters.
Ellie and Flynn's relationship was a complicated, hurtful mess when she showed back up in Hope Junction. I thought it was quite easy to see from them both that if ten years wasn't enough to forget their feelings, then they really must have had something quite special. There were secrets on Ellie's part that she had never told anyone, not even her godmother. I understood why she would be reluctant to want to share them, but it made for a lot of drama in her and Flynn's life. I really liked the story as a whole, especially since there were other subplots written in with Ellie and Flynn's family and friends. This was a great cast of characters who pulled on my heartstrings as well as made me smile throughout my time with them all.
If you're a fan of second chance romance like I am, I highly recommend reading Flynn and Ellie's heartfelt story. I truly think you'll be glad you got to know them and their loved ones.
Book Info:

Published September 30th 2014 by Harlequin HQN
She left him at the altar, but her heart was always his…
After more than ten years away, Australian soap star Ellie Hughes returns to the small country town of Hope Junction, determined to remain anonymous while caring for her injured godmother, Matilda.
But word spreads fast in the tight-knit community. It isn't long before the people of Hope's are gossiping about the real reason for Ellie's visit and why she broke the heart of golden boy Flynn Quartermaine all those years ago.
Soon Ellie and Flynn are thrown back together again, forced to deal with the unresolved emotions between them. For Ellie is not the only one with secrets. Flynn has his own demons to battle, and Matilda is hiding something from her much-loved goddaughter.
When all is uncovered, can the ill-fated lovers overcome the wounds of their past? Or is Flynn destined to be jilted again?