In Keep Me Closer by Ryhannon Byrd, Alex is a former police officer now PI. As a favor to his brother, he's covertly looking out for Brit, a good friend of his brother's wife. She's a counselor who's felt threatened by a former patient. Alex wants nothing to do with women, in particular Brit, but he'll do this favor for his brother, prove there's no threat, and move on. As he hides in the shadows keeping an eye on her, the intrigue he feels for her, the draw he feels to her is easy to push away. But when the threat becomes real and Brit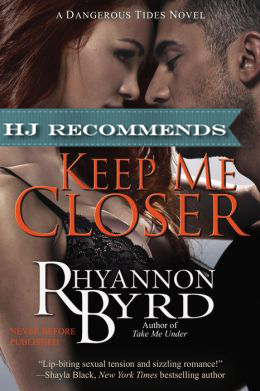 is in need of protection, Alex will do whatever it takes to keep her safe. Even if it means bringing her into his home.
Brit has her own past she's tried to leave behind, and as powerfully attracted as she has been to Alex since she met him, his walls are too high to climb, he is too angry, and he has made his dislike of Brit painfully obvious. Now being protected by that same man, they are suddenly spending a lot of time together. As danger pursues Brit, the chemistry between Alex and Brit heats up until they can no longer pretend it's not there. The connection they feel is real and the sex is out of this world, but are either of them ready for anything more than what they have right now? Can Alex protect her and at the same time protect his heart? Or will the reality of their own mortality push them to risk it all? To do that they'll have to survive a madman, and work through the past to move on to the future.
Keep Me Closer is a very sexy, suspenseful romance. Alex doesn't trust anyone, not even himself. He is crude and angry, pushing anyone away who tries to get close. Initially he was a bit difficult to like, but as Rhyannon works through his issues and slowly builds his story and character, the more you want to know about him and what is driving him to act how he does. He gives off a very bad boy appearance, but Brit is intrigued anyway. Brit is strong and independent. I really did like her, she didn't take what Alex was trying to hand out! I also love a heroine like Brit who acknowledges danger and accepts help, even if she doesn't really want his help. This just makes her stronger. Brit was easy to get from the start, Alex's story came together throughout Keep Me Closer. This added strength, drama, and great character building to Keep Me Closer. Together Brit and Alex are stubborn and they work together amazingly well. When the chemistry between them finally ignites, they don't play games and keep fighting it…instead they give into it. But for anything to come of it, Alex will have to open up to Brit and let her behind the walls he's erected.
Keep Me Closer is part of a series, but I do think it can be read as a stand alone (as I did) with no confusion. There are secondary characters whose stories I'm sure have been told, but it did not impact on the story of Alex and Brit significantly enough to feel I was missing anything. Keep Me Closer is a fast paced romantic suspense with very explicit sex scenes that are written well into the story. The suspense and sexuality are woven well together, and because that is what Keep Me Closer is about…a relationship and a suspenseful drama, this works well.
With characters who you will come to know well, if you enjoy edgy, explicit romantic suspense you will enjoy Keep Me Closer.
Book Info:

Published June 3rd 2014 by Berkley Trade
From Rhyannon Byrd, author of Take Me Under, comes yet another sizzling, sensual tale of intrigue, passion, and the most dangerous risk of all…
Five years after the end of his marriage and his career as a detective, Alex Hudson wears a permanent suit of armor to keep the world at bay. Now a PI in South Florida, he believes that he's better off free of romantic complications—even if a certain beautiful redhead makes him sweat with little more than a look. But he's determined to steer clear of women and the trouble they bring. Until trouble comes uninvited…
Renowned therapist Brit Cramer has seen her fair share of violence and knows how to handle it. But when a former patient targets Brit as his feminine "ideal," she finds help in the last place she ever expected—the tall, dark, outrageously sexy Alex Hudson, who saves her from a violent attack. Brit's been powerfully attracted to Alex from the moment they first met several years ago, but she knew better than to do more than enjoy the view…
The initial uncertainty they both feel shatters in the face of a searing, absolute desire, but their time is running out as they find themselves caught in the sights of a madman who will stop at nothing to get what he wants. Before they know it, they're fighting not only for their lives, but for the possibility that they may have both found exactly what they've always wanted and needed…in each other.