Kept by Maya Banks: Hayley is determined to follow through on the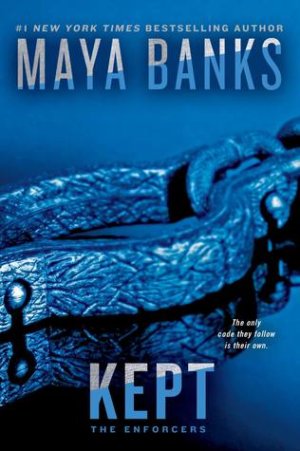 dreams her parents had for her. While she's still grieving from the recent loss of her father, she's embraced their dream of attending a prestigious music school. She's barely making ends meet and is desperate to find a new apartment on her meager earnings. She's thrilled and a whole lot surprised to secure an apartment in a nice area of New York that's within her budget.
Silas is a very private person to the extent that even his brothers/co-workers don't know much about his past. He is controlled, relentless, loyal, focused, and has OCD tendencies. He would easily give his life for his brothers or Evangeline. Silas also tends to keep to himself and has no plans to find a relationship like Drake has with Evangeline.
All of Drake's enforcers, including Silas, are incredibly protective of women. Seeing the innocent Hayley looking so dejected, he takes the highly unusual step of giving up the apartment next to his for her use. Silas has no plans to actually get to know Hayley, but he doesn't count on her giving nature. Silas brings Hayley under his protection after she was attacked.
"First, he doesn't care who I find hot or not and second, he doesn't get to decide who I say is hot."
The three men stared at her with open mouths, and then they burst into laughter until tears rolled down their cheeks.
"Oh man, this shit's going to get really interesting," Zander choked out.
Despite their immediate attraction, Silas is hot and cold. Hayley can't quite figure him out and she has little experience with men. While under his protection, Hayley is also protected by all of the enforcers and they immediately take to her. Silas can't stay away from the constant temptation Hayley represents and he introduces her to BDSM. Hayley does challenge him and they have a good relationship with give and take.
"Got news for you, honey. If this is your idea of punishment, then you're a walking advertisement for willful disobedience."
"Don't get any ideas," he warned.
"Oh, but I do love your punishments," she said dreamily.
Kept is erotic, engaging, and entertaining with some drama and angst as opposites collide. Maya Banks provided a good balance of the serious and dangerous world that Silas operates in with the lighthearted banter between Hayley, Silas, and the enforcers. Ms. Banks created a great band of brothers in the enforcers with many different personalities. Kept can be read as a standalone in this series. Fans of Roni Loren, Shayla Black, and Lexi Blake will enjoy Kept.

Book Info:

Publication: October 25th 2016 | Berkley | The Enforcers #3
From the author of Mastered and Dominated comes the third Enforcers novel—the searing story of a woman who finds sanctuary in surrender…
He can't change who he is…
A horrific childhood has made Silas the man he is today: dangerous, distrustful, and demanding. He's lived in self-imposed solitude, convinced that no woman could ever accept his need for absolute control—in business and pleasure. That is, until a young violinist walks into one of his buildings and into his life.
She can't change what she wants…
Haley has been struggling to fulfill her father's dying wish: to attend a prestigious music school in New York City. But even working two jobs, she can't afford the tiniest of apartments. Seeing her hopeless and near tears, Silas vows to help and protect her, no matter the cost to himself. But when Haley meets his every demand with unwavering acceptance and love, he is overwhelmed by her goodness and gentle spirit. He knows that the dark stain on his soul can never be erased—and rather than risk destroying the most beautiful thing he's ever experienced, he knows he'll have to do the hardest thing he's ever had to face. Let her go. But he's totally unprepared for the lengths Haley will go to fight for his love and a future brighter than the sun…