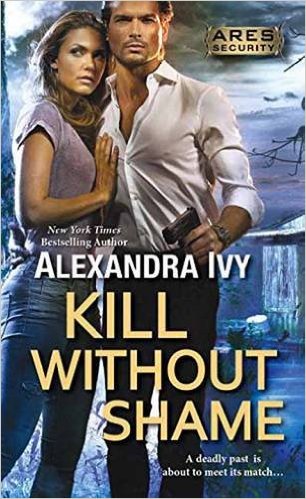 In Kill without Shame (ARES Security #2) by Alexandra Ivy, when an old friend Lucas St Clair hasn't seen in years is murdered, and is found with a threatening message to do with Mia Ramon — the only woman he's ever loved — Lucas will do anything in his power to keep her safe. But first, he needs to find a way to win back her trust. The question is – will he find a way, so they can have a second chance at love?
"Why was Tony in Houston? And why did he have a picture of me?"
"I don't know yet, but I promise I'll find out."
She stilled, studying his grim expression. "You said you weren't working for the cops."
"I'm not." A fierce smile curved his lips. "I'm better."
She rolled her eyes. "I see you haven't lost any of your arrogance," she muttered.
Ever since reading the first book of this series (Kill without Mercy), I'd been eagerly awaiting this next book, so I could discover more about the five men that have formed an unbreakable bond since escaping a Taliban prison, and I've got to say that this book does not disappoint. From start to finish, this second chance romance themed book was engaging, fast-paced, and provided a good dose of suspense and romance. Luke will do everything in his power to protect Mia while trying to win back her love, because she's the one woman he's never been able to forget.
The dialogue was intense due to the main characters back stories, especially that of the hero. He doesn't like to talk about his capture and time spent in a Taliban prison because it was one of the worst experiences of his life, and yet, he can't not tell Mia. It helps her understand how close he and his friends are and why they're so willing to help him protect her and find the person that wants her dead. Moreover, the dialogue wasn't all intense. Luke knows just the right way to get Mia to respond to him and he needs to explain why he left her in the past. Something that also wasn't easy, but she needed to know that he never meant to hurt her and if they'd stayed together in the past, then that's exactly what he would have done.
"You're right," he admitted, regret darkening his eyes. "I took your innocence, I wasn't going to steal your joyous nature."
"What's that supposed to mean?" she asked before she could halt the words.
"I wasn't going to let the St. Clair clan turn you into a plastic version of Mia Ramon," he said, his fingers skimming down her neck while he studied her with a somber expression. "They would have destroyed you in an effort to make you the proper daughter-in-law."
Both the main and secondary characters were entertaining, especially the men of ARES Security. They're not afraid to take risks that could land them in jail, and their bond illustrates that they would do anything for each other. Yet, what I liked most about Lucas and the other four men he escaped with from a Taliban prison is the story of how they escaped. Each had their own skills that helped them achieve the impossible task. Lucas being the smooth talker; Teagan, a computer expert; Max knows everything there is to know about forensics; Rafe is a born leader and a good covert ops specialist; and Hauk is a very impressive sniper.
As for Mia, she makes Lucas work to gain her trust again because she's afraid of getting hurt and losing him all over again. There were times in her dialogue where she took cheap shots at Lucas to let him know how much he hurt her in the past. Yet, I believed he did the right thing by leaving her. His parents were toxic and still are that it's no wonder he stays away from them. Also, the heroine is strong, brave and I liked how much of a challenge she provides for the hero. No way is she going to shy away from the investigation into her friend's murder. While Lucas, he's cocky, confident, and I liked how protective he was of Mia.
She means everything to him and there's no way he's going to lose her again. The investigation into their friend's death takes some dangerous twists and turns that leaves Lucas wondering whether he can keep Mia safe, but if anyone is capable of protecting her it's the hero.
Overall, Ms. Ivy has penned a really good second book for her ARES Security series, which has me looking forward to future books, because I love the men of ARES Security. They're HOT and talented. The way this story ended was delightful, as Lucas would do anything to be with Mia. Will he sacrifice all that he's built with his friends to be with Mia? Or will Mia be the one to show Lucas that they deserve a second chance by sacrificing all that she's worked hard for? I would recommend Kill Without Shame by Alexandra Ivy, if you enjoy the opposites attract trope or second chance romances where the intense chemistry between the two main characters spills over onto the pages nicely and proves just how right the pair are for each other.
Book Info:

 December 27th, 2016 | Zebra | ARES Security #2
Five brave military heroes have survived the hell of a Taliban prison to return home—and take on civilian missions no one else can. They're the men of ARES Security. Highly skilled, intimidating, invincible, and one by one, tested again and again . . .
Lucas St. Clair's prestigious family had a political future neatly planned out for him—one that didn't include his high school sweetheart, Mia Ramon. Under their pressure, Lucas gave her up. But since surviving captivity, he's a changed man—and a crucial member of ARES Security. When he discovers a dead man clutching a picture of Mia that bears a threatening message, his fiercest protective instincts kick in, and he knows he must go to her.
Mia has never forgiven Lucas for breaking her heart, and she's convinced her feelings for him are in the past. But it's soon clear that isn't true for either of them. Now, determined to solve the crime and keep Mia safe, with his ARES buddies backing him up, Lucas will have to reconstruct the murder victim's last days—and follow a lethal trail that leads right back to the fate of the woman he still loves . . .