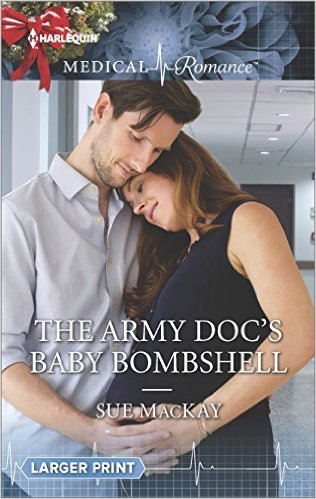 In The Army Doc's Baby Bombshell by Sue MacKay, Sophie Ingram and Cooper Daniels are both lucky to be alive after a bomb blast goes off at the military compound where they're both assigned. Having survived the dangerous situation they both realize they can't let the opportunity to explore their chemistry pass them by. However, actions have consequences and soon after Sophie discovers pregnant. Will Cooper be able to handle the fact that the baby is his once Sophie finally gets around to telling him?
"I won't be able to sleep. My head's spinning and my body aches from being tossed through the air."
"That was some landing you made."
"Didn't you get thrown down?" she asked, suddenly remembering how quickly he'd seemed to be with her, covering her as bullets had flown past. "Thank you for protecting me. That was incredibly brave."
"Honestly? It's something I did without considering the consequences. You looked vulnerable and I just fell over you."
The surprise pregnancy trope is a trope I've grown to love and Ms. MacKay has penned a good read in this story, which encompasses a military hero and heroine who barely escape a dangerous situation while deployed and discover that life is too precious to fight their feelings, even though both are anti relationships. How this story started was intense due to what the hero and heroine go through and had me hooked, determined to discover what obstacles these two would have to face to achieve their happy ever after considering their stance on relationships. Will Sophie give Cooper a chance, considering she's never witnessed a healthy relationship before? How will Cooper convince Sophie that their relationship will be different to that of her parents?
As for the dialogue, it was engaging due to the way this story started with what happens at the compound where they're working. How are they going to treat casualties? Certainly, the situation makes them both realize how lucky they are to be alive, and I could understand why they'd turn to each other for comfort. But what I liked most about the dialogue is how it was a perfect blend of intense and playful. Intense due to the main characters back stories because neither have witnessed healthy relationships in their lives. What happens if they give a relationship between them a chance for the sake of their baby and things don't work out? Will they end up hating each other? Sophie's concerns were understandable, as she always felt like she was a burden to her parents and she won't have her child feeling the same way.
"I was with Mum and Dad for a couple of hours and not once did they as much as glare at each other, let alone give me a hard time. It was as though they like each other."
"Maybe they do." He looked smug.
"How's that possible after thirty-four years of disliking each other?" Why now? Because she didn't live with them anymore. Couldn't be. She'd left years ago. Sophie shook her head. "I think they were my parents."
Cooper grinned. "You want to get DNA on them?"
It wasn't funny. It hurt. "They seemed happy together, and that's an alien word in their relationship."
I really enjoyed the main characters, although Sophie did frustrate me at times. It was palpable how much she cared for Cooper throughout, yet she wasn't willing to take a risk for fear of the relationship ending up like her parents. Where one or both of them would come to resent the other because they were forced to be together, so their baby could have both its parents in their lives all the time. However, in saying that, Sophie won me over completely in the end due to the decisions she made in concerning her future with Cooper. Certainly, she had her parents to partially thank for that.
While Cooper, he was a great hero and I liked how determined he was to win Sophie's heart, even though at times it seemed there was no hope because of the heroine's stubbornness. Also, I liked how caring and protective he was of Sophie from the start because she needed someone like that in her life. Someone that showed her it was worth taking a risk on love and happy ever after, no matter how bad her parent's relationship was growing up.
Overall, Ms. MacKay has penned a really good read in this medical romance where the strong romance illustrated how right these two are for each other and that no obstacle is too difficult to overcome, because love is worth fighting for. The epilogue wrapped this story up nicely with the playful dialogue between the main characters. Who knew talking about hard boots could be considered dirty talk to one of the main characters? I would recommend The Army Doc's Baby Bombshell, if you enjoy the surprise pregnancy trope.
Book Info:

 November 22nd, 2016 | HQN Medicals |
From one night…to baby surprise!
Surviving a bomb blast together led to an explosive night of passion between army docs Cooper Daniels and Sophie Ingram. But the next day Cooper shipped out, leaving Sophie with a lasting reminder of their desire!
Cooper hasn't been able to forget Sophie, but commitment isn't an option for this lone wolf. So when the army throws them back together, her baby secret stuns him! The captain will give anything to protect his new family…but can he offer Sophie his heart?