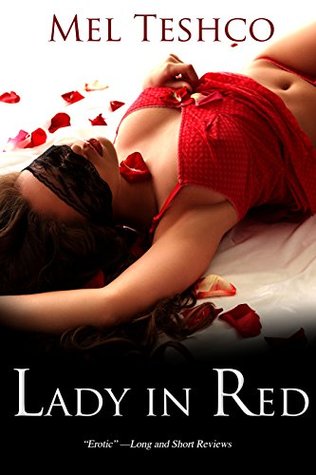 Lady in Red by Mel Teshco: Whether we want to admit it or not the past always helps mold us into who we are going to be. In this novella Ms. Teshco proves this with both her hero and her heroine. She does a great job, in a short number of pages, in letting her readers really get in involved with these characters. The story is sexy, yes and not for the faint of heart, but it's about more than the sex. It's about healing and not second guessing. Very well written and heart string pulling this a short sexy novella well worth it.
Book Info:

 Published February 1st 2016 | Tule Publishing |
Bullied and battered as a child, Kate Matthews grows up and transforms herself into beautiful and confident, Brandy Alexander, a sexy, high-class call girl. With a select number of rich and successful clients and a jaw dropping income, Kate feels like she's living her dream being desired and bedded by some of Australia's most powerful and influential men. But she has one rule. Don't fall in love. Except the more time she spends with her favorite client Blaine Waymann, the more she fears he might be the one man who could topple the perfect world she's built.
Billionaire philanthropist Blaine Waymann is determined to break Kate's rule. He wants exclusive rights to Brandy and Kate, in bed and out, and is willing to risk everything to win her body and her trust. But when Kate starts opening her heart to Blaine, she faces an agonizing decision. Run like she always does, or stay with the man she not only lusts after, but loves.