Lips Close to Mine by Robin Bielman: After a tragedy in her past, Harper wants nothing to do with romance. She'll do one night with a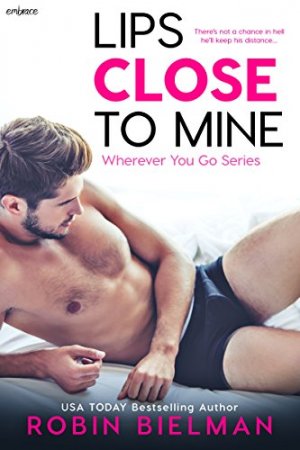 guy, but that's about it. At least, until Levi forces his way into her life.
He's the one guy she knows she could do more with – she wants to do more with. But Harper won't let herself, no matter how much Levi wants to woo her. After Levi's own romance troubles, he's not looking for a relationship either, but he knows he wants Harper for as long as he can have her.
As the two find their way in each other's life, the chemistry burns and they fall into each other. But it isn't going to last long, not when Harper isn't ready to heal.
The focus was a little too much on Harper's work with a swim organization and her past tragedy, and it just felt a little too angsty throughout the story. This couple definitely felt young, as well – very New Adult which I've lost most of my interest in.
But I did like Harper and Levi together. Levi was adorable and hot, and they had wonderful chemistry. I definitely felt the sparks between these two, no matter how much they resisted. The conflict didn't necessarily go as I expected either. Not too surprising, but the author weaved a more interesting story.
Overall, for those who love the young and in love I recommend Lips Close to Mine. Not a favorite story, but a sexy and emotional ride, for sure.

Book Info:

Publication: November 20, 2017 | Entangled Embrace | Wherever you Go #2
I wasn't supposed to see Levi Pierce ever again. A few months ago, he charmed the pants off me and we spent one incredible night together.
End of story.
Only it wasn't. Pretty soon everywhere I turn, I see him. Our best friends are dating. My mother mistakenly—and happily—thinks he's my plus-one to my cousin's wedding. And he's the guy I have to work with on the most important job opportunity of my life.
Here's my problem: I like Levi. I like his killer smile and his dreamboat eyes and definitely the way he makes me feel in bed. But I've sworn off relationships. So when the sexual tension reaches epic proportions and we fall back into bed together, I tell myself it's temporary. When I start to feel more, I tell myself it's over.
Only Levi isn't a forget-it kind of guy. When his lips are close to mine and he swears he's always wanted me, my defenses disappear. But some things in life just aren't meant to be.
Or are they?