The Bed Mate by Kendall Ryan: Sam and Maggie have been best friends since college. They are the only ones who seem themselves as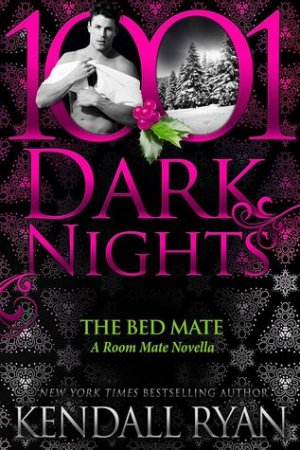 just friends, while their friends, exes, and random strangers over the years suggest there is more to that relationship. Sam has definitely gone through his share of girlfriends and is recently single. Maggie was in a relationship for years and just broke up with her boyfriend. In an effort to cheer her up, Sam convinces Maggie to join him on a snowboarding trip to Colorado over New Years, despite her many concerns over the safety of the sport.
"Did you not get the stats I sent you the last time you tried to convince me to go snowboarding?" I demanded.
"Some of us don't live our whole lives by the numbers," Sam said, a teasing light making his dark blue eyes sparkle.
Sam was always attracted to Maggie and would love to change his BFF status to that of boyfriend. Maggie is starting to notice Sam in a whole new light. He's so different from her ex, which is a good thing, but she also can't lose the one person who means so much to her. Both struggle with the attraction, which ramps up as they are staying in the same hotel room and can't stop thinking about what if.
"You're sure you wouldn't rather… This isn't lame for you?" I prodded.
"Hell no." Sam shook his head. "I'm telling you, the best place I could be tonight is hanging out with you."
The Bed Mate is all about the buildup in this friends to lovers romance. Kendall Ryan created tension, anticipation, and heat in a pretty quick read. Ms. Ryan wrote a great couple in Maggie and Sam with some interesting friends. Fans of Emma Hart and K.A. Linde will enjoy The Bed Mate.

Book Info:

Publication: November 14th 2017 | Evil Eye Concepts, Incorporated | Roommates #3.5
I might be a typical guy, but these last few years, my love life's been anything but. From crazy ex-girlfriends to one night stands who are stage-five clingers, my relationships go bad faster than the milk in your fridge. The only constant has been my best friend Maggie.
Fresh off a bad breakup of her own, I invite Maggie to my guy's skiing weekend knowing she needs an escape from reality. But then something funny starts to happen. I start noticing things about her that I never noticed before.
She's beautiful and doesn't know it, she's funny without even trying, and now she's suddenly single for the first time in forever.
Sharing a hotel room with her proves to be the tipping point in our very platonic friendship. Suddenly I want to put my hands, my mouth, and my … other parts … all over her gorgeous body. I want to claim her, make sure no man touches her ever again. But then her groveling ex shows up, and Maggie's torn.
Am I ready to screw up the best relationship I've ever had for a shot at something more?