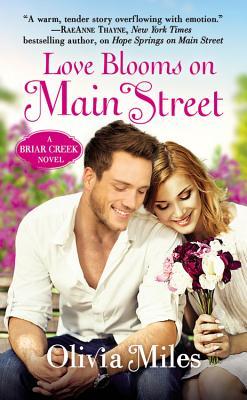 Love Blooms on Main Street: Florist Ivy Burch wants love, marriage, the whole shebang. But the one guy she's crushed on forever, and thought she finally had a chance with when they had the hottest kiss at a wedding a few months back, wants nothing to do with commitment or staying in town any longer than he has to.
Brett loves being an ER doctor, but once he left for college he was gone, leaving him feelings of guilt for leaving his mother after her years of cancer. Now, after a bad experience, he's back in town for a few months. Except, he keeps running into Ivy, and even though he knows he doesn't want commitment or to stay where ivy's obviously rooted, he can't seem to stay away.
Both hold back and don't let people close, but as Ivy falls harder and harder for Brett, she fears his takeover of her life once he finds out about her diabetes. Only her brother knows and she feels burdened by his desire to watch over her ever since she went to the hospital for it a few months back. And it looks like Brett, even as he holds himself back, is watching her a little too closely for comfort.
"What are you doing?" he asked, laughing under his breath.
She looked momentarily startled to see him. Her blue-green eyes flashed on him, sparking wit awareness that she was being watched, but she just pinched her lips and shrugged. "It just needs a good pounding," she explained, giving it another hard slap.
Love Blooms on Main Street is a cute story. It took me awhile to get into it, and I can't say I loved my introduction to the characters, but eventually I definitely appreciated them and their romance. The romance, too, is a slow build. They resist and resist even through all their desires.
There is an odd plot line with one of Ivy's friends, where we follow her career aspirations, and I'll admit I don't get why it was in the story. I liked it, but it didn't fit. Otherwise, I liked being in Ivy and Brett's heads. I felt both had real issues, they were well developed, and I believed in their happily ever after.
The fourth in a series, it can totally be read as a standalone, but I'm definitely thinking I want to give the others a read. For those who want a deeper, small town read I'd recommend Love Blooms on Main Street.
Book Info:

 July 26, 2016 | Forever | Briar Creek #4
Love is always in season . . .
Florist Ivy Birch fantasizes about the day a man will surprise her with a beautiful bouquet of flowers. Especially if that man happens to be Brett Hastings. One stolen kiss at her best friend's wedding and Ivy can't get the sexy ER doctor out of her head.
In the small town of Briar Creek, you can't avoid anyone for very long. Not that Brett has been trying to avoid Ivy. He just can't afford to let anything distract him from his work-not again. So when a hospital fundraiser throws them together, love is the last thing on his mind. But with her quick wit and sweet laugh, soon the one woman he's tried to keep at arm's length is capturing his heart…