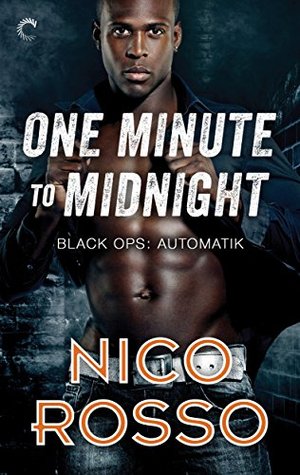 In One Minute to Midnight (Black Ops: Automatik #2) by Nico Rosso, Both Ben Jackson and Mary Kuri know distractions can be dangerous while they're on their current assignment to take down the gunrunners that have the good people of Morris Flats scared of them. A little harmless flirting should be enough until they've completed their mission, but it's hard to deny their feelings when their chemistry is so intense. Will their new found connection give them the edge they need to defeat their enemies, or will it make them vulnerable?
He kept his voice no louder than the high leaves rustling in the cutting breeze. "You make this look good."
A small smile cracked through. "I'll be you say that to all the operators you go into battle with."
"Just the beautiful ones with .50 rifles and titanium nerves."
Having really liked Mary and Ben in the first book of this series, Countdown to Zero Hour, where they were second characters, I couldn't wait to read this one and I've got to say that it was everything I'd hoped for and more. Not only because it encompasses the friends to lovers trope, but because of the well-written dialogue that made me feel like the author's words was bringing the action to life, especially when it came to the times when Mary and Ben had to fight their way out of dangerous situations.
As for the dialogue, it certainly provided a lot of light-hearted moments, as Mary and Ben flirt with each other to portray to the folks of Morris Flats that they don't know each other before meeting in the town. They provided a few good laughs because it seemed Mary wasn't used to flirting with a man. However, the dialogue was also intense due to everything they're doing to clean up Morris Flats and the main characters back stories, especially Mary's. Growing up she didn't have the easiest of times, and her experiences have made her the strong, independent woman that she is. Those experiences, the violence she witnessed and survived also were the reason she was chosen to be part of a Special Forces squad, her job before joining Automatik.
He leaned toward her. "If you ever want a demonstration dummy, call me."
She chuckled and pinched his butt. "I don't think my students would want to see what I do with you once I get you on the ground."
"Yeah, that's like tenth degree black belt level, top secret, no-holds-barred hand to hand."
She grew more pensive. "But really, it might be good for them to have you there for some of the training. As the bad guy and the good guy."
While Ben, he's kind, caring, confident and protective. He trusts Mary completely to cover his back, and hopes that she trusts him just as much, since she hasn't had a lot of people in her life she could put her trust in. I liked that he managed to break down the heroine's walls that made her so closed off to everyone. Since she needed someone she could rely on at a personal level, instead of just a professional one like she does the rest of the Automatik team.
As for the couple's growing relationship, their flirting and playful banter certainly ups the sexual tension, and the closer they get to closing in on the gunrunners definitely cements the bond they have. Until eventually, their strong chemistry spills over onto the pages in hot sex scenes that had me cheering for this couple to get their happy ever after. Because the heroine certainly deserves some happiness in her life after all that she's been through.
Overall, this was a really good addition to this author's Black Ops: Automatik series where the secondary characters were just as enjoyable as the main characters. They have a close bond, and definitely say the right things to lift each other's spirits when the going gets tough. I also liked that Mary finally realized that she was a good fit for the group. That she no longer needed to remain so distant from her team. The way this story ended was perfect, and I loved the words Ben expressed about how completely gone he is with the heroine. It made me smile that he used a sentence that included bullets and matters of the heart. I would recommend One Minute to Midnight, if you enjoy romantic suspense, the friends to lovers trope, or stories where the couple need each other to heal from the hurts of their pasts.
Book Info:

 July 18th, 2016 | Carina Press | Black Ops: Automatik #2
He was her safety.
She was his backup.
Former navy SEAL Ben Jackson knows that sexy "Mary Long" is nothing but a cover; that beneath the stylish clothes and flirty smile is a stone cold super-soldier no one ever gets close to. Until her kiss hits him like one of her sniper rounds. But Morris Flats is no place for a hookup—menace hums through the town, and the more the two operators keep pushing for answers, the more deadly the current seems to run.
For former Special Forces sniper Mary Kuri, flirting with her muscular teammate feels like playing with fire. It's hard to tell where the cover ends and the real feelings begin. What she does know is they can't afford to lose focus. Their mission is to gather evidence, and with the gunrunners watching their every move, a single mistake could prove fatal.
It's two against the world, and Ben and Mary are about to discover that not only do the lives of innocent people hang in the balance, but they're also fighting to save the rare connection they've found with each other.