Make Me Sin by J.T. Geissinger: Total opposites, A.J. and Chloe have been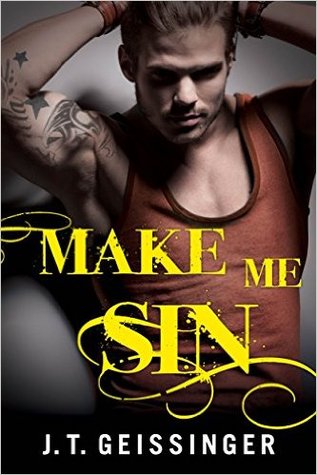 fighting an attraction through snipes and scowls as long as their two best friends have been together. As Chloe's relationship with cop Eric becomes more serious than expected, Chloe begins seeing another, sweeter, side to A.J that only works to confuse her.
Soon, A.J. is all she can see or want and what was once bitter comebacks between them becomes romance. But A.J. hides a dark past from Chloe and refuses to give her too much of himself even as she falls deeper and deeper.
Once she discovers the truth, both of them are all in, until more secrets tear them apart. Together, they work through what is truly a rough road to love.
"I can't be what what you need. I'm not the man for you. We both know that."
"Then what are we doing, A.J.? What is this? Why are you here?"
"Because I'm fucking weak! I can't stay away from you! No matter what i do, you're there, in my head, smiling that heartbreaker smile! I can't stay away… and I'm so tired of trying!"
Without giving spoilers, all I can really say is I found the conflict to be over-dramatic. Many other romance readers enjoy the drama, but I tend to find it extremely annoying. The secrets A.J. kept, especially the last and biggest, also do not bode well for a happily ever after in the future which angered me a lot, although that could have been in part to the author not clarifying A.J.'s future. And honestly, I found his reasoning stupid with the "keeping secrets to protect you" attitude.
Most of the story was dark, from A.J.'s secrets to Chloe's boyfriend Eric, and all the pain they went through. I would love to say the romance between them was strong, but there was no development from hate to love. Just suddenly they loved one another.
The only things I actually liked about Geissinger's Make Me Sin were Chloe and A.J.'s community, A.J.'s chromaesthesia, and his protective attitude towards Chloe. Their best friends and the flower shop were lovely and funny, completely at odds with the rest of the story. And the rest is always awesome to have in a hero.
This story was not for me. But if you're a fan of J.T. Geissinger or love the dark and dramatic romances, give it a shot.
Book Info:

Publication: January 12, 2016 | Montlake Romance | Bad Habit #2
Chloe Carmichael's life feels pretty sweet—she's both maid of honor and florist for her best friend's A-list wedding, things are getting serious with her boyfriend, and her flower shop is about to get a spread in a national magazine. But it all quickly turns sour whenever the best man, Bad Habit drummer A.J. Edwards, shows his face…his handsome, unforgettable face. A.J. is everything Chloe doesn't want: tattooed, selfish, and all-around bad news. So why can't she stop thinking about him?
Goody two-shoes Chloe isn't exactly A.J.'s type, either, but the chemistry between them is undeniable. A.J. will be the first to say he isn't a saint, but there's something he's not saying—something that would devastate Chloe. The only way he can protect her is to push her away, but the drummer finds he needs her now more than ever. When a wedding-day confrontation reveals secrets they're both hiding, will Chloe and A.J. ever find their rhythm again?