Make Me Stay by Jaci Burton: Reid has his own successful business as an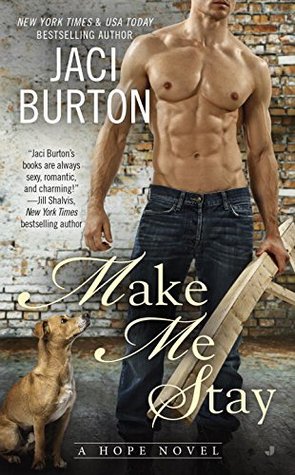 architect and contractor in Boston, but he's back in his hometown to renovate the mercantile. Reid and his brothers bought the mercantile with plans to lease out office space once the historic building is back up to code and gleaming like she used to. He's staying on the family ranch with plans to head back to Boston once the project is done.
Samantha runs one of the busiest floral shops in Hope. The women of her family have run this shop for years and she's proud to carry on in their legacy. Sam loves the small town of Hope and treasures her grandma as the only blood relative she has left.
Sam is just as excited as Reid for the renovations to finally get under way. She's one of the people who was pushing Reid and his brothers to buy the building and help the town to continue growing. She makes a point of stopping by to check on how things are going and to see the sexy architect.
He looked down at her slip-on pink Chucks, capris, and white polo shirt. "Trust me. You're not dressed for demolition."
"Darn. I didn't get the memo about the dress code or I'd have worn my boots today."
His lips curved. "They don't go with your outfit."
"They do go with my favorite short skirt, though."
Both are leading busy lives without much time for romance or relationships. Reid is focused on getting back to Boston and Sam is dedicated to taking care of her grandma. But they find that they enjoy spending time together and they're willing to explore their chemistry.
Both love dogs but neither of them have the time to really care for one until Reid is adopted by an adorable stray on the ranch. It seems like Reid starts to put down roots in the community again as he's asked his opinion on a number of other construction projects. While their feelings have grown deeper than expected, both are very aware that Reid's stay was only meant to be temporary.
She pointed her fork at him. "None of which you can find in Boston."
"You forgot one thing."
"I did? What?"
"You."
Make Me Stay is entertaining and heartwarming story that pulls you in to the small town of Hope and it's residents. Jaci Burton creates a special hero in Reid who really supports Sam. Ms. Burton showcases strong friendships and family ties. Make Me Stay can be read as a standalone book in the Hope series. Fans of Jill Shalvis and Susan Mallery will enjoy Make Me Stay.
Book Info:

Publication: December 1st 2015 | Berkley Jove | Hope #5
The fifth novel of heartwarming passion in the Hope series, from the New York Times bestselling author of the Play-By-Play. Perfect for fans of Jill Shalvis, Rachel Gibson and Bella Andre.
Reid McCormack is back in Hope to renovate the old mercantile. Then he plans to go back to Boston, where he's built a successful career. But beautiful florist Samantha Reasor is a distraction Reid hadn't counted on. Samantha intends to convince Reid that Hope is where his heart has always been, and coming home might be the best choice he could ever make.