Married for the Greek's Convenience by Michelle Smart: A whirlwind affair and an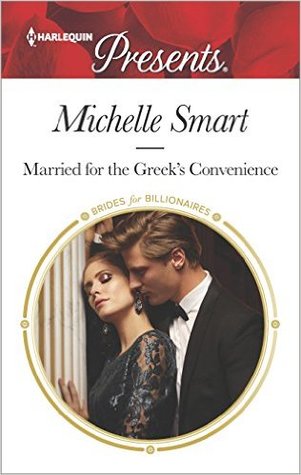 impetuous marriage between Xander and Elizabeth ended after only a few short days when a tragedy back home caused Xander to break Elizabeth's heart and end their relationship as quickly as it had started. Assuming the annulment she'd filed had gone through, Elizabeth set about remaking her life, becoming a matchmaker for the very wealthy. Called to help four bachelors fix a scandal by finding them wives, the last man she has to find a partner for is the very man she fell in love with so long ago. Only by a quirk of fate their marriage never ended! Now Xander needs Elizabeth to play the part of his wife again, to help him keep custody of his nephew away from his grasping parent's hands and to fix his reputation. In return, he promises her enough money to live on for the rest of her life, understanding that her discreet business as a billionaire matchmaker is now over. The flames of passion may have been doused but quickly come roaring back to life. Can they put the past behind them and give their love a second chance?
I really enjoyed this story! Xander's reasons for leaving Elizabeth revolved around family tragedy, as well as the sudden realization that Elizabeth would be too tenderhearted to last around his parents. In his defense, he left her believing that in the long run she would be better off. But he recently discovered that their marriage never ended and when he and Elizabeth meet again, he's able to use that to his advantage. His brother and sister-in-law have a fractious marriage and drug problems, and he's been the sole provider for his nephew. He needs to show the court that his nephew is better off with him than his cold and critical parents and a wife will provide that stability.
Elizabeth was deeply hurt by Xander's abandonment but gained strength and confidence in herself when she moved on with her life and created her own business. She doesn't have too many options faced with Xander's ultimatum, and in truth she's never quite gotten over him. She has had no relationships during their time apart and when the two of them are together, the passion between them can't be denied. They share some sensual love scenes and gradually open up to each other again.
Xander's nephew Loukas acts as one would expect from a young boy who is missing his parents and worries about losing his uncle too. He's not very happy to share Xander with Elizabeth, but gradually the two of them form a sweet and loving relationship. I really liked the setting of Xander's home on a greek island and it forms a lush and luxurious background for the story. In the end we get a lovely rekindling of the feelings that drew Xander and Elizabeth together in the first place and a sweet happy ending. It's a great ending to this series!

Book Info:

Publication: Dec 20, 2016 | Harlequin Presents | Brides for Billionaires #4
ows never broken…
He was the man she never wanted to see again… Exclusive matchmaker Elizabeth Young cannot believe it when Xander Trakas storms back into her life, announcing that their disastrous marriage was never annulled!
His was the bed she never thought she'd share again… It would be so easy to surrender to the fire that still flickers between them, but can Elizabeth risk giving her heart to the formidable Greek again?
His was the ring she never thought she'd wear again… With guardianship of Xander's precious nephew at stake, Elizabeth just can't refuse her husband's demand!