Married to the Maverick Millionaire by Joss Wood: The third story in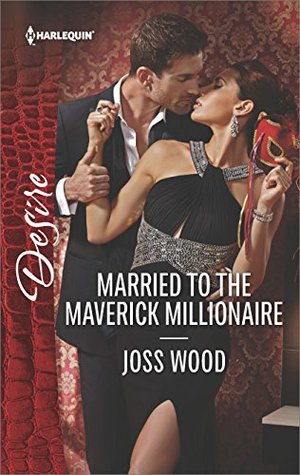 the 'From Mavericks to Married' series is a sexy friends to lovers romance starring hockey coach and single playboy Quinn Rayne. With his two friends Mac and Kade, he's one step away from some important investors putting their support behind the Vancouver Maverick's team that they used to play for and now manage together. But his reputation isn't so family friendly, and it's in his best interests to appear to be settling down with one woman.
Cal Carter survived an abusive marriage and in her currently widowed state thought she was free of her deceased husbands influence. But the circumstances of his will leave her with a dilemma – she needs to be married to someone else so that the inheritance she doesn't want will go to the man's sons instead of her. As luck would have it, Quinn's need for a committed partner in name only fits perfectly with her need for a marriage of convenience. They've been best friends for years and know they can get along in a pretend relationship for as long as it takes to have her inheritance become null and void, and for Quinn and his friends to get the infusion of money they need for the team. They just didn't count on the blossoming sexual attraction that flares up in close quarters. When their pretend relationship starts to feel pretty real, will they admit that their feelings are changing or stick to being just friends?
I've enjoyed every story in this series, but I admit that this one is my favorite. I love friends to lovers stories, especially when the couple end up in a relationship of convenience where they are forced to admit that their feelings for each other aren't so platonic. It's not until Quinn and Cal encounter each other at a masked ball and discover that the person they are attracted to is none other than their in-name- only spouse that they have to confront that things are changing. Whether or not they are for the better is the tricky question. Neither of them wants to lose the strong friendship that they've had for so many years, and becoming friends with benefits sounds good but could lead to more complications when their marriage ends.
Cal's background as an abused spouse is treated with sensitivity as she struggles with how to tell Quinn about the reality of her first marriage. She and Quinn had become estranged for a few years during that time, and it's only now that she's back in Vancouver and living with him that she wants to tell him the whole truth, including her own ulterior motives for their marriage. As for Quinn, he has some personal issues that have made him hold himself back from getting seriously involved with a woman, and they make him believe he's not a candidate for a happy ever after with Cal either.
As Cal and Quinn spend time together, their attraction to each other just grows stronger and they share some sexy scenes together. I loved seeing them come to terms with their new feelings and their struggle to balance their friendship with these stronger emotions. We get a lovely happy ending for this couple but not without some rocky times first, and a sweet epilogue with all the couples from the series. I highly recommend this story, and the series as a whole.

Book Info:

Publication: Dec 1, 2016 | Harlequin Desire | From Mavericks to Married #3
She can marry the millionaire and keep her hands to herself…right?
When Cal Carter needs a husband in name only, her childhood friend is the perfect pick. But on the other side of "I do," her sexy millionaire of convenience is much more man than she counted on! She can't stop thinking about their marriage bed…
Especially when the millionaire in question is Quinn Rayne, world-famous heartthrob hockey coach. Quinn is grateful for Cal's proposal, which keeps the press at bay—but the sizzling passion between them is irresistible. All it takes is one stolen kiss at a masquerade ball to turn this convenient arrangement between friends into a red-hot affair…