In The Chrismas Challenge by Sinclair Jayne, Tucker McTavish has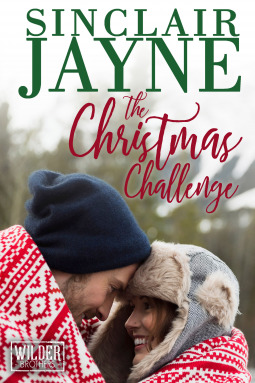 returned home to Marietta, determined to help her twin sister, Tanner with her wedding. She's determined to stay out of trouble, since that seems to be what she's known for. Going to Miracle Lake to find her courage to face her sister, she runs into Laird Hunter.
Laird's mother recently passed away after revealing a secret–he's adopted and might have a twin brother. With only the knowledge that his birth mother was from Marietta, he heads there to find answers. What he finds is Tucker skating on Miracle Lake. He joins her, and the two decide to help each other out.
I liked the story for the most part, but I had a hard time with Tucker. She comes across as very selfish. Tanner is marrying Luke, who Tucker had a fling with on the rodeo circuit. Now Tanner believes that Tucker has come back with ulterior motives. She doesn't trust her, and I could see why. The first thing Tucker does upon arriving is to burst into Tanner's room, with no consideration for Luke and Tanner. When she makes all of Luke's favorite breakfast things, it's like she's rubbing her familiarity with Luke in Tanner's face. Her sister doesn't want a wedding dress or a bridal party in the wedding, and all Tucker does is get aggravated because she wasn't going to be a bridesmaid. As much as she claims she wants to reform and do things for other people, most of the time it felt like she was doing things more to make her feel better about herself than to actually make anyone else feel good. Then, when things don't go the way she wants, she becomes upset.
I liked Laird, but he was a little slow on the uptake. I figured out fairly quickly who his siblings were, but it took him almost to the very end of the book. Even when people kept saying he looked like someone else, he didn't put the pieces of the puzzle together. It felt dragged out.
I have a few issues with the book, other Tucker. There was mention of having an intervention for Tucker and Tanner's father, who was an alcoholic and a gambler, but then it's never followed through. It's also mentioned that Luke feels uncomfortable around Tucker, but when the whole group is hanging out he seems to have no issue with her at all, which was a bit contradictory. There's a part close to the end about a tattoo, which was just odd. I understand the significance of the tattoo, but where it was placed made no sense to me whatsoever. I know that probably sounds like a strange statement, but if you read the book you'll understand what I'm talking about.
This is book three in the series. I haven't read the previous books in the series and was able to follow along no problem, but I did find myself wishing I had at least read Luke and Tanner's book before reading this one. There was mention of an incident that happened between Luke and Tucker, which caused part of Tanner's anger and trust issues with her, but I had the feeling it was covered more in-depth in their book, which is called Want Me, Cowboy.
The Christmas Challenge was a good book, but it would have been better if Tucker had been a better character with more redeeming qualities. This book would be for readers who enjoy stories of long-lost family finding one another, or people trying to make amends and finding love along with way.
Book Info:

Publication: November 15, 2016 | Tule Publishing Group LLC | The Wilder Brothers #3
Prodigal daughter, infamous flirt and fiery-haired champion barrel racer Tucker McTavish blazes back home to Marietta with both a secret, and a personal challenge. She will keep a low profile at her twin sister's Christmas wedding. Which means no whiskey. No kissing. No scandals. No fun. What she needs is a miracle, so it's too bad when she visits the legendary Miracle Lake to plead for inner strength: a tall, dark, and handsome bad boy is waiting with a challenge of his own.
Extreme sports guide Laird Hunter doesn't do boring. And he thought he didn't have secrets. He thrives in carving his own trail through tight and dangerous spots, but when he finds out his entire life has been built on a lie, he heads to Marietta for answers. But when he meets the redhead with the killer smile, laughing eyes and body with more curves than a mountain road, he finds himself asking a whole new set of questions.
Will these two daredevils – with more than a few secrets between them – find the one person from whom they don't need to hide ?