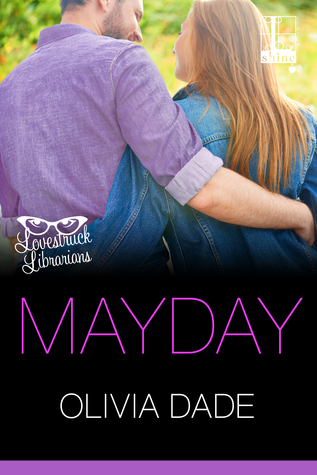 Mayday by Olivia Dade: After yearning for Wes Ramirez since grade school, Helen finally has her chance with him…except it ended up being far less than spectacular and Helen isn't so sure she ever wants to see him again. But when an opportunity comes up for Helen to get a much-desired promotion, it means working closely with the mayor of Niceville, a.k.a. Wes Ramirez.
Wes knew he messed up with Helen. He took advantage of a situation, and now he wants nothing more than to give it a shot with the lovely, intelligent Helen. If only she'll at least agree to be his friend first. Then maybe she'll give him a chance once more.
As Helen and Wes work together, friendship blooms to romance. Except, Wes is offered a chance to leave Niceville and pursue the success he always desired, but Helen's desire for independence and work she loves is only in Niceville.
"You listen to me, Helen Rose Murphy," he said, his voice a low rumble. "You will let me explain myself right now. Before you say another word."
"But –"
He covered her mouth with his for a split second, shocking her into silence.
I really do love this series, and Dade's heroines I adore. They're nerdy, sexy librarians with raunchy senses of humor and a whole lot of strength. As Helen works to make the Mayday festival happen, even with protesters and other disasters, she never gives up and is always there for Wes – after he properly apologizes for what was really an awful night, of course.
Wes, on the other hand, bothered me a bit. I almost really liked him because of his love for Helen and his desire for success. But he felt too selfish, even though it was recognized in the story and he did change, the entire focus of the story was more on him than her. At times, I felt his arc along with the festival overpowered the romance.
You don't need to read the previous novels in the series, but I highly recommend it. For any romantic comedy fan, I say give Mayday a try. It's got a great community, and really, the whole protesting around the festival and its historical connections to the erotic were just hilarious.
Book Info:

 May 10, 2016 | Kensington | Lovestruck Librarians #3
Helen Murphy loves her supportive family, her close-knit circle of friends, and her part-time job at the library. What she doesn't love: the fact that she's a thirty-six-year-old near-virgin who lives in her parents' house. Eager to move out and reclaim her independence at long last, she's determined to get the library's new Community Outreach Coordinator position. Even if that means working side-by-side with the one man she desperately wants to avoid–Niceville's ambitious mayor Wes Ramirez, who happens to be her only previous lover, and the source of her greatest humiliation…
Wes needs to make up forhis disastrous one-night–actually, make that one-hour–stand with deliciously nerdy librarian Helen. As they plan the city's upcoming May Day celebrations together, he'll try to prove he can do better, in bed and out.It may take every bit of his creativity and determination, but their budding romancehasalready gonedown in flames once . . . and he'll be damned if he'll let Helen go a second time