Melting Into You by Laura Trentham is the third book in the Falcon Football Series, but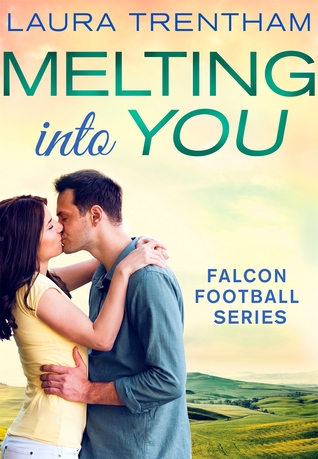 can be read as a standalone. Football, passionate characters, and small towns make this book a must read!
Alec and Lilliana, two people who have a history together, only….Alec has no idea exactly what that history entails. Lilliana has inherited the Hancock House from her grandma but needs it brought up to code. Alec is the town building inspector and is the one who does the inspection. But an inspection isn't the only thing that goes down at the Hancock House. Passion ignites and sparks fly, just before complications arise.
It's no secret that Lilliana doesn't like Alec and as the story unfolds we find out the reason for all the animosity. Turns out Alec took Lilliana's virginity back in college but doesn't remember her. To be fair, he was conceited back then and a completely different person now. Alec is complicated. The former NFL star has been betrayed by the very people he trusted the most.
"Rather than love, than money, than fame, give me truth."
This is the first time I'm reading a book by this author and I can honestly say that I bought the previous two books immediately after finishing this one.
Lilliana has her work cut out for her getting him to let down his walls and trust someone. Both characters have serious baggage, but together they can get through anything. Witty banter, fierce chemistry, and heartwarming romance bring this story to a close. Highly recommended.
Book Info:

Publication: November 3rd, 2015 | St. Martin's Paperbacks | Falcon Football #3
Alec Grayson returns home to Falcon, Alabama, to rebuild his life after a knee injury ended his NFL career. As the Falcon high school quarterback coach, Alec's love for the game is reignited. Meanwhile, he puts his hard-partying past and the betrayal of the people he trusted most behind him, and adopts a hard demeanor. That is, until a spitfire artist with soulful eyes and a body that haunts his dreams gets under his skin and threatens to crack his armor.
Lilliana Hancock is forced to leave her struggling-artist lifestyle in New York and return to Falcon after her father's unexpected death leaves her a decrepit family mansion. Determined to use her skills to turn the home into a successful bed and breakfast, Lilliana is stopped at every turn by the town contractor, who happens to be Alec, the gorgeous and arrogant jock to whom she lost her virginity in college. Except Alec doesn't remember, which infuriates her. Too bad she can't forget the way his body felt against hers or how his heated gaze follows her…
Will they be able to put their pasts behind them for a future together?